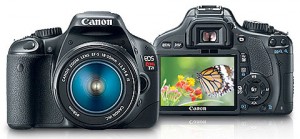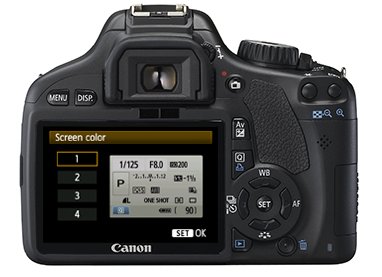 The Canon EOS 550D Rebel T2i is a DSLR which in addition to still photos can record 1080p video at 30, 25, or 24 fps. The sensor is an 18 Megapixel APS-C CMOS sensor which uses high frequency vibrations to remove any dust particles. In many ways the Rebel T2i is nearly as good as the more expensive Canon 7D and Canon 5D Mark II. It does fairly well in low light. The MSRP is $899 without lens, but you can find it at this price with an 18 – 55 lens.
Viewing
The camera has a bright eye-level optical reflex viewfinder. It also has a 3.0" Clear View LCD with 1,040k dots. With a viewfinder this small, manual focusing can be difficult. The Live View/Movie Shooting implementation helps a lot with focusing.
The camera also includes a sophisticated metering system like that of the Canon EOS 7D. It has dedicated video record button which automatically activates Live View.
Lenses
The 550D can accept EF-S and EF lenses including Macro and Fisheye. With EF lenses the focal length is altered by the camera's crop factor which is 1.6x. The camera supports focusing in video mode by pressing the shutter halfway.
Storage
The camera accepts SDXC cards as well as SD/SDHC cards. For SD/SDHC cards, the 550D can record up to 29 minutes and 59 seconds (4GB) of continuous video in MOV format, but only 12 minutes of HD in one take. There is no beep or audible indication that the camera has reached the 4GB limit. The 4 gig limit does not apply to the SDXC cards since the file structure in the new cards will allow single files up to 2TB.
Video
It has a fairly simple video mode interface. Movie mode allows for full manual exposure control. Many cannot see a difference between the video recorded by this camera and video from the more expensive Canon 7D. Like most DSRLs, handholding these cameras is not as easy as handholding a shoulder-mounted video camera. So lenses that have image stabilization will be helpful. Tripod or other camera platform is a good idea.
The white balance system is not the greatest design. To manually set white balance, you have to take a still of something white, and then go to custom white balance to pick out the picture. The camera adjusts from there. It also lets you use any of the 6 white balance presets – such as indoor, outdoor, shade, but it doesn't let you dial in the Kelvin value.
To shoot video you select movie display and then press the SET button. You can grab still images while shooting in movie mode just by pressing the shutter button, but this creates a one second gap in the video. While Auto Focus is available for video capture, it's slow.
Audio
There is a built in mono mic as well as a stereo plug input. The stereo microphone input is located under the accessories port flap. There is no manual audio control, only AGC. There is no headphone jack nor onboard monitoring while recording.
ISO
ISO
The T2i has ISO settings of 100 "" 6400 (expandable to 12800). There is, however, no ISO setting between 800 and 1600 or between 1600 and 3200.