Canon EOS 60D
MSRP: $1,099.00 body only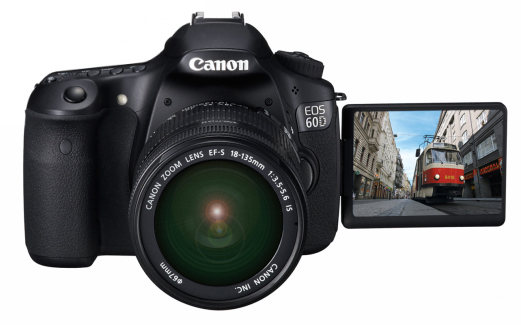 Summary: DSRL with very good video image quality, swiveling LCD, slow AutoFocus for video and no continuous autofocus for video.
Pros: Higher resolution screen, larger sensor, more lenses available, optical viewfinder, higher resolution, faster shutter speed.
Cons: Slow AF in Live Mode, White balance may be reddish under tungsten lights, Plastic body construction.
The Canon EOS 60D (http://www.usa.canon.com/cusa/consumer/products/cameras/slr_cameras/eos_60d) is a DSLR that was first announced in 2010. Internally it is very much like the Canon EOS 550D Rebel T2i See the VideoUniversity review of the Rebel T2i. It differs from that camera in that the 3 inch LCD screen can now swivel and flip out. It also has a more sophisticated auto-focusing system than the Rebel T2i. The EOS 60D is a step up from the 550D Rebel T2i, but a step down from the Canon 7D.
The camera has an APS-C CMOS sensor with 18 million effective pixels, 1080p HD video recording with manual controls and frame rates of 29.97, 25, and 23.976 fps. The ISO range is 100 – 6400/
Viewing
The viewfinder is an eye-level pentaprism with 96% frame coverage and .95 magnification. The diopter adjustment is from -3.0 to +1.0.
The LCD screen is 3.0″ with 1,040,000 dots (3:2). It has 100% coverage and is articulated which is a first for Canon. Many users thing this is the best feature of the camera. This movable LCD is helpful for low angle shots, sllder shots and more.
Lens
The 60D is offered as a body only or in a package with a EF-S 18-200mm f/3.5-5.6 IS lens or EF-S 17-85 f/4-5.6 IS USM lens or EF-S 18-135 f/3.5-5.6 IS lens.
The 18-135mm zoom offers a focal range of about 29-216mm in 35mm film equivalents with the 60D's 1.6x crop factor, yet the entire lens and body package is fairly light and makes a nice walking about setup. This kit lens has maximum apertures of f/3.5 and 5.6 at the wide and telephoto ends. There is a manual control option for exposure.
AutoFocus for movie capture is a weak aspect of this camera. It can take a couple seconds or more. Continuous autofocus on a moving subject is not available.
Video
Overall the video image quality is good. Since the camera uses a CMOS sensor, rolling shutter effect is a consideration, but has been minimized. There is also an in-camera editing suite that allows you to shorten clips without resorting to outside software. The camera has a manual white balance feature. Shooting video is not a one-touch deal.
1. Switch the mode dial to Movie Capture. This involves a slightly awkward locking button. While this reduces the chance of accidentally changing it, most people find it annoying
2. Then you need to acquire focus with either the shutter button or the AF-ON button. This can be frustrating. It's not possible to have continuous autofocus on a moving subject.
Audio
The 60D has a built-in microphone for mono audio. It can also accept an external stereo microphone to permit stereo recording. The manual audio controls are buried in menus. They do not display when you are recording and cannot be changed while recording. This is only a little better than Automatic Gain Control (AGC). A wind cut filter function is built-in.
Storage
SD / SDHC / SDXC
When shooting 1080p HD, the maximum record time is 12 minutes or 4 GB whichever happens first. The camera may shut off before either the size or time limits are reached due to internal temperature. For some people overheating has been an issue with this camera, but it is better than the T2i and 7D.