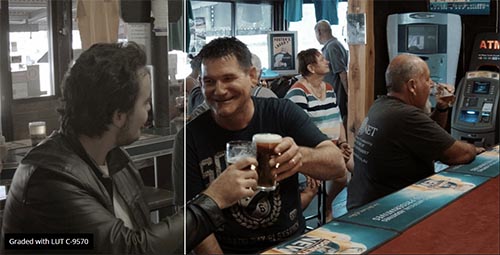 Color grading with LUTS has become very common in film and video production. Color grading is the process of altering and enhancing the color of a motion picture, video image, or still image. Today this is done digitally. Color correction, on the other hand, is done by using color gels, or filters, in cameras to alter the overall color of the light before it is recorded.
Color grading is a tool that can help make your video images look great. One of the color grading tools used by colorists is the LUT, an acronym for Look Up Table. This is a file with math instructions to replace a color by another one. It's essentially a color grading preset, but it's more complicated than that. The process is pixel by pixel which delivers a high degree of accuracy. The advantage of LUTS is that they are simple to use and work in just about any software. The disadvantage is that only the intensity can be adjusted.
The LUTS can be used in different monitors and even in live streaming, but the most common way to use them is in post production grading. Many program have their own collection of LUTS. But even better are the LUTS you can buy. Most any software that can handle color grading will be able to import LUTS.
While a LUT enables you to change the look of your video with one click, working with them is not always that simple. For instance if your shots don't match each other, applying a LUT in post could make it worse. The answer is to take care in production. Light the scenes well and make correct exposures. This way in post you will have properly exposed and lit scenes to add LUTS to. You can still add color correction to each shot as necessary before you apply the LUT.
The major editing programs all have color correction capabilities. They can import and do color grading with LUTS. In addition there are many programs dedicated to help you color grade your video footage. These color correction suites include:
Magic Bullet – https://www.redgiant.com/products/magic-bullet-suite/
Colorista – https://www.redgiant.com/products/colorista-iii/
DaVinci Resolve – https://www.blackmagicdesign.com/products/davinciresolve
LUTs can also be used in Final Cut Pro X, Adobe After Effects, Photoshop, Avid, Sony Vegas with a plugin, and many others.
Color Grading With LUTS
But regardless of what software you use, you can import LUTs into any of those programs. When you're ready to try adding LUTS, check out http://luts.iwltbap.com . This site has some pretty cool features. For one thing you can buy 200 LUTS for $25. There are even a few free LUTs. There's also an interactive LUT Previewer. You drag one of your images into their window and you can preview all of their LUTS with an intensity fader. Pretty cool! The instructions for using their LUTS are different for every program so we can't give you general instructions.
For more details about how to use LUTS, here's a video called "Use LUTs Like A Pro! – Best Practices for Color Grading with LUTs"