DVD Regions were created to control the release of movies around the world. Region Codes enables movies to be released on DVD at different times around the world, typically America and Canada first, Australia and Japan 6 months later, and Europe 12 months after US release. In some instances, DVD movies are available for purchase in America and Canada before they are released in European cinemas. Due to the high quality of DVDs and the movie release system used by Hollywood, eight regions were established to prevent people from watching Region 1 movies before they were released on Regions 2-8.
DVD Region Locking is a system used to control which DVD movies play on which DVD Players. The regions are broken down as follow: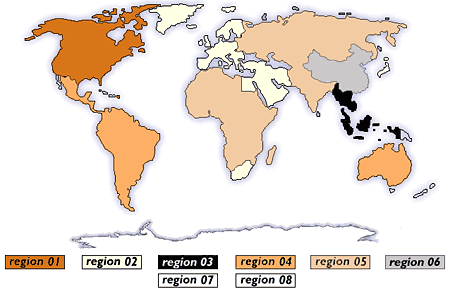 Region 01

U.S., U.S. Territories, Canada

Region 02

Albania, Andorra, Austria, Bahrain, Belarus, Belgium, Bosnia and Herzegovina, Bulgaria, Canary Islands, Croatia, Cyprus, Czech Republic, Denmark, Egypt, Estonia, European Union, Faroe Islands, Finland, France, France, Georgia, Germany, Gibraltar, Greece, Greenland, Hungary, Iceland, Iran (Islamic Republic of) Iraq, Ireland, Israel, Italy, Japan, Jordan, Kuwait, Latvia, Lebanon, Liechtenstein, Lithuania, Luxembourg, Macedonia (the Former Yugoslav Republic), Malta, Moldova, Principality of Monaco, Netherlands, Norway, Oman, Poland, Portugal, Qatar, Romania, Russian Federation, San Marino, Saudi Arabia, Slovakia, Slovenia,South Africa, Spain, Sweden, Switzerland, Syrian Arab Republic, Turkey, Ukraine, United Arab Emirates, United Kingdom, United Kingdom (Channel Islands) Vatican City State, Yemen, Yugoslavia

Region 03.

Southeast Asia, East Asia (including Hong Kong)

Region 04

Australia, New Zealand, Pacific Islands, Central America, Mexico, South America, Caribbean

Region 05 .

Former Soviet Union, Indian Subcontinent, Africa (also North Korea, Mongolia)

Region 06

China

Region 07

Reserved

Region 08

Special international venues (airplanes, cruise ships, etc.)
This means that movies from Region 1 (USA & Canada) WILL NOT play on a DVD player regions 2-8. Effectively Region 1 discs play only on Region 1 DVD players, Region 2 discs play only on Region 2 DVD players and so on.The Region Code is usually specified on the back of the individual DVD packages, either with a Regional Coding logo of a globe with the region number superimposed over it, or specifically spelled out. For example, while currently-released New Line and Warner DVD titles use the globe logo & number scheme, MGM/UA titles state: "This disc has been encoded for Region 1: The United States, U.S. Territories and Canada." In the cast of Lumivision's discs, they are labelled "Available worldwide," which means that the discs contain no regional coding and will play on any player in any country
Code Free DVD Players
A Code free DVD player is a DVD player that is capable of playing DVD discs from around the world. DVD discs are encoded into 8 different regions. DVD players that are available from most large electronics chain stores are not Code free. The acid test is to try a DVD from another country and see whether it will play or not in your DVD player. It is legal to own a Code free DVD player, but you can not use it for illegal purposes. Check your State and Federal copyright laws for details. It is possible and legal to modify a DVD player to be Code Free, but you will definitely void the warranty and unless you're an engineer, there's a good chance you'll wreck the unit.
Regional Code Enhancing
The Motion Picture Association of American (MPAA) has developed a new system called RCE (Regional Code Enhancing) which will be included on almost all new region 1 DVD releases. This technology was created to prevent consumers with Code free DVD players from watching DVD discs purchased in North America. From now on, most region 1 DVD discs will be including this technology. As such, you may find in the future that some DVD discs bought in the United States will not work on your Code free DVD player. Currently, there is no word on whether or not this technology will be included on other regions.
Many of the code free DVD Players can play RCE discs but you have to change the region with the remote control for most DVD players. See the individual DVD player specifications for more information. Regions are Different from World Standards NTSC and PAL are world video standards for each country. For more information see our article World TV Standards. DVD discs are either PAL or NTSC standard. Most multi-system DVD players and VCRs will no convert the video standard. Thee machines can play either a PAL DVD or an NTSC DVD without converting the files.
The Following list are Some of the Code Free Players available from: DVD City
H&B DV 808 Code Free DVD Player
JVC XV-N40BK Code Free DVD Player
JVC XV-N44SL Code Free DVD Player
Pioneer DV-275 Code Free DVD Player
Pioneer DV-F727 Code Free DVD Changer
Pioneer ELITE DV-F07 Code Free DVD Changer
Sony DVP-NS725P Code Free DVD Player
Toshiba SDV290 Code Free DVD Player
Manufacturer's Web Sites