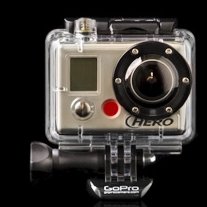 by Philip "Frogman" Hinkle
Last year I stumbled across the GoProHD camera as part of a side venture/hobby of mine. I dabble in aerial photography and video via RC aircraft so size and weight are huge factors. I had seen a few GoPro cameras in stores, but they were all SD and I felt the cost for the quality was just too much. While at a WEVA convention my wife learned about the trick shots you can get with a GoPro so I started rethinking it all. Then the HD version arrived around December 2009. I placed my order quickly and was lucky enough to be in the second batch of shipments from GoPro. I wanted it more to fly on my plane than to use at weddings but I knew I would find a way to use it in event work.
The GoProHD comes in different versions. The version you get determines the different mounting brackets that are included. I ordered the Motorsports version since the included mounts seemed to fit different ideas I had of how to use the camera. Included in the box is a waterproof housing and a number of different mounting brackets including one that is a large suction mount for windshields or car bodies. I also ordered an extra mount that gives you a tripod mount option for easier mounting on my RC aircraft.
What are my impressions. I love this little camera. It has its quirks but when you get good footage from it the payoff is great. The camera is full auto meaning you can't control anything manually except the video resolution, photo mode and spot metering. When you are doing extreme sports like it was designed to film there is no time for tweaking while filming. The camera shoots in 1080/30p, 720/60p, 720/30p and a special 960p mode. The 960p mode is basically 4×3 aspect ratio but HD quality in full 1280×960. It also takes pretty good 5mp images in photo mode.
Here are some of the many ways I have used the GoProHD in both my hobby and weddings:
It was first mounted on my large RC aircraft to shoot video. When conditions are right the video is beautiful. It has been mounted on an RC helicopter for photos and video.
I have used it for a few underwater trick shots in a video I created about the WEVA experience in Orlando in August 2010.
It is a wonderful wide shot camera for a wedding ceremony if you want that grand view of the venue. If you are shooting an outdoor wedding the wide shot imagery is amazing. Here's a sample from a sunset wedding we shot. This is a frame grab off the 1080p video mode and has been compressed a little.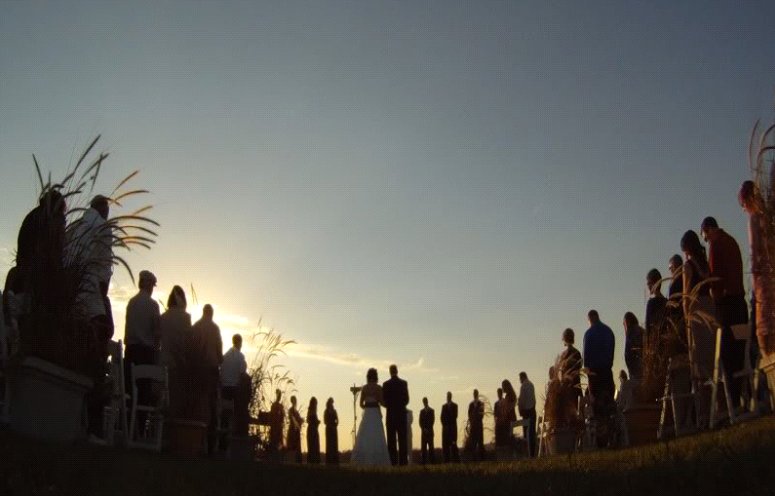 I used the suction mount to mount on the inside of my motorcycle windshield on a group ride. I was able to capture both video and some images. The suction mount never budged and was solid the whole day.
The GoProHD was a great trick shot camera for a bridal spotlight film we created in 2010. It was flown on the RC plane, it was used for a few wide shots and was also used for a splash shot in a water scene at the end.
I also used the GoProHD on a SteddiePod for some floating footage on the bridal spotlight. Imagine a Glidecam or Steadycam type device with only an 8 ounce camera on it. Because of the wide angle the footage is silky smooth and because of the small size it is very light weight.
Those are just a handful of ways I have used the GoProHD in my regular work. A few other ideas of how it could be used for a wedding would be to hide it on the top of an archway or hupa for an unmanned cutaway shot. It could be a fun little POV cam for a wedding party member to take along on offsite picture sessions. Your imagination is your only limit.
There are some quirks and shortcomings of the GoProHD that you need to be aware of as well. It is terrible in low light. If you plan to use it for a reception forget about it unless it is outdoors before dark. It was made for extreme sports and those normally happen in the day time.
The lens is very wide angle. In 720p mode the field of view is 170 degrees so there is a definite fisheye effect. If you keep the horizon centered it isn't too bad but if you tilt up and down it will bend. In 1080p mode the field of view is 127 degrees so the fisheye effect is not as noticeable but is still there.
The camera uses a CMOS sensor which means you'll sometimes get the dreaded rolling shutter effect. It's not the camera flashes that are the problem; it is the vibrations you have to deal with. If you mount the GoProHD on a vibrating object you will get serious CMOS jello. On the RC aircraft it is a constant battle to remove every small vibration or harmonic from the electric motors. On the motorcycle, with the cam mounted to the windshield, there was noticeable rolling shutter going down the road. It would have been better to mount it on my helmet. Shooting in 720/60p mode will help reduce any vibration induced CMOS issues because of the higher shutter speed.
There is no LCD monitor screen on the back. Camera modes are set via a tiny LCD information screen on the front by reading codes. It is pretty easy to learn what it all means after going through the instructions. Without the LCD monitor though you are shooting blind.
Just released in late January 2011 is an LCD Backpack for the GoProHD. It plugs into the back of the camera and gives you an LCD monitor. The LCD monitor also comes with an extension for the back of the waterproof case so the LCD monitor can be used in the protective case.
Photo mode is pretty decent for the size of camera. The photos are only 5mp stills but the quality is pretty good when light is favorable. The sensor is a little noisy but on par with most point and shoot cameras. The camera has a few photo modes for taking single pictures, groups of 3 pics (for HDR Photography) and an intervalometer for time lapses.
I use the intervalometer to take pics every 2 seconds when flying on a plane. That way I don't have to worry about triggering photos. I can just concentrate on flying. Here's a photo taken from the GoPro on one of my RC aircraft. As you can see the shadows are long so the sun was setting and light wasn't perfect but it is a good sample of the image abilities of the GoProHD.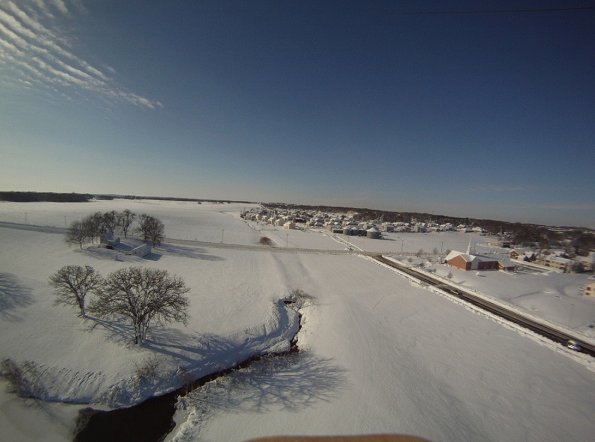 The GoPro is not a camera you will use all the time.  It is a great little trick shot camera for those special angles or views you may not be able to get from your bigger prosumer level or DSLR cameras.
To see some videos from my GoPro and the RC aircraft you can
visit my Facebook page. All videos on the Facebook page are from the GoPro.  Some of the pics are from the GoPro and other cameras.
To view the bridal spotlight with a few GoPro shots in it visit my blog (http://frogmanproductions.com/blog/)
There are a few GoPro ground level shots, a glidecam shot and an aerial shot from the GoPro in the clip…see if you can find them.
I don't use my GoProHD all the time but I constantly tell people if you want my GoPro you will have to pry it from my hands and fight me for it.
Technical Specifications
Camera Optics
* Lens Type: Fixed Focus (2ft/.6m "" ?), glass
* Aperture: f/2.8 (high performance in low-light situations)
* Angle of View: 170º ultra wide angle in WVGA, 720p, or 960p mode
* Angle of View: 127º wide angle in 1080p mode
Video
* HD Video Resolution Modes: (subject to change, pending final firmware release)
o 1080p = 1920×1080 pixels (16:9), 30 fps, 15 Mbit/s data rate
o 960p = 1280×960 pixels (4:3), 30 fps, 12 Mbit/s data rate
o 720p = 1280×720 pixels (16:9), 60 fps, 15 Mbit/s data rate
o 720p = 1280×720 pixels (16:9), 30 fps, 8 Mbit/s data rate
o WVGA = 848×480 pixels (16:9), 60 fps, 8 Mbit/s data rate
* Sensor Type: 1/2.5? HD CMOS, 2.2µm-sized pixels
* Light Sensitivity: Super low-light sensitivity (>1.4 V/lux-sec)
* Video Format: H.264 compression, saved as Windows- & Mac-compatible MPEG4 (.mp4) file
* Exposure Control: Auto with user selectable center weighted average and spot metering settings
* White Balance: Auto
Audio
* Microphone: Built-in, mono with AGC (automatic gain control)
* Audio Format: 48 kHz, AAC audio compression
Photo
* Resolution: 5 megapixel
* Capture Modes: Single shot, photo every 2, 5, 10, 30 or 60 secs.; 3 photo burst; self-timer
Storage
* Memory: SD card (SDHC), up to 32GB capacity (not included)
* Average recording times (using 32GB SD card):
o 1080p (30 fps): 4h 21m
o 960p (30 fps): 5h 26m
o 720p (60 fps): 4h 21
o 720p (30 fps): 8h 09m
o WVGA (60 fps): 8h 09m
Camera Connectors & Cables
* PC Connection: USB 2.0 (data connection and battery charging)
* HDTV Out: HD NTSC & PAL (component cable incl.)
* Audio Out: Combo 2.5mm jack with stereo audio and composite video out
* PC Compatibility: Windows® Vista or Windows® 7; Mac OS® X 10.4.11 and later
Power & Battery
* Battery Type: Rechargeable 1100 mAh lithium-ion
* Battery Life: Approx. 2.5 hrs
* Charging: via USB to computer or optional power adapter
* Charge Time: 80% capacity after 1 hour with optional power adapter; or 2 hours with a computer's USB port
Waterproof Camera Housing
* Depth Rating: Up to 180 feet / 60 meters
* Construction: Polycarbonate and stainless steel
* Hardware: Stainless steel
Size & Weight
* Dimensions (H x W x D): 1.6" x 2.4" x 1.2" (42mm x 60mm x 30mm)
* Weight: 3.3oz (94g) incl. battery, 5.9oz (167g) incl. housing