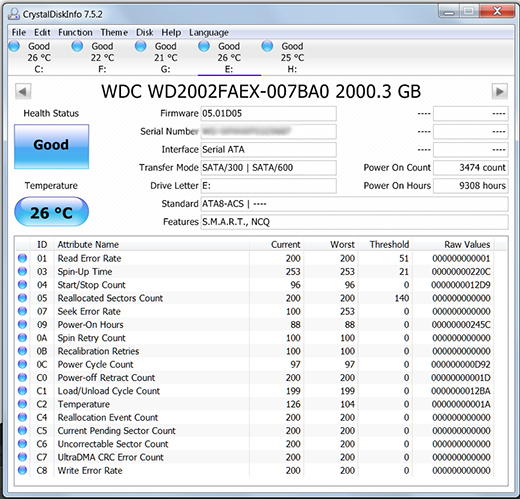 My video editing computer has 4 internal drives. Two of them were for backup, but I stored some other large video projects on those two. The transfer business was requiring more space. I keep customer jobs for 30 days, but delete them after that. So I needed a new backup strategy. I was also wondering about the health of hard drives in general. I was looking at the possibility of adding an internal 8 GB drive. But my computer guy warned me of some dangers of doing that. Instead he steered me to adding an external drive. So after some research, I found the Seagate Expansion 8TB Desktop External Hard Drive USB 3.0 on Amazon.
Health of Hard Drives
I've done a few backups with the new hard drive and have been very happy with it. I also wanted to check the health of hard drives and that's when I learned about the S.M.A.R.T. (Self-Monitoring, Analysis, and Reporting Technology) test. This test helps you gauge the reliability of your drives to see if they are failing or are developing problems. S.M.A.R.T. is free Windows software (M.I.T. License.) There are other programs available for OSX and Mac, but they are commercial.
Not only do hard dives fail, but a dying disk can cause data corruption before it dies. Most modern drives support S.M.A.R.T., so they can at least do some basic self-monitoring. Unfortunately, Windows doesn't have an easy-to-use built-in tool that shows your hard disk's S.M.A.R.T. data. You can view a very basic S.M.A.R.T. status from the Command Prompt, but to really see this information, you'll need to grab a third-party app.
I found one called CrystalDiskInfo. CrystalDiskInfo is free program from M.I.T. that is very straightforward and extremely light. It offers all the important information, such as temperature, health status, hard disk type and features, read/write error rate and spin-up time, etc.
The main view shows the S.M.A.R.T. status information for your hard drives. If everything is working properly, you should see the status "Good" displayed. I checked each of my 5 drives and was pleased to see they all came up "Good." The test is instant so it is using data the drive always tracks. It also runs on solid state drives. This is a smart test to run on new drives and every few months or more on other drives.
You can also view a list of detailed information about each drive, but unless you're a pro—or you're troubleshooting something very specific—it likely won't mean much to you. If you're interested, though, the Wikipedia page for S.M.A.R.T. maintains a pretty good list of these attributes, along with how to interpret the data.
Aside from "Good," you might see "Bad" which usually indicates a drive that's about to die or dead. "Caution" indicates a drive that you should back up and replace soon. "Unknown" which just means that S.M.A.R.T. information could not be retrieved. Managing the health of hard drives is just another task for a video entrepreneur.
For more information see Tapeless Workflow And Backup Strategies for Video Production.