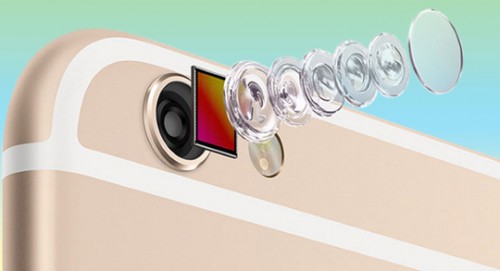 Smart phones have been making surprisingly great video for quite a while now. See this classy 4 Min "Doc" for Bentley Motors which was filmed with the iPhone 5s. So it's no surprise that the new iPhone 6 would be better. But the cameras in the new IPhone 6 and the 6 Plus are much better and use technology used by high-end DSLRs. Here are some of the specs:
1080p at 60 frames per second
slow-motion shots up to 240 fps at 720p
optical video stabilization (iPhone6 Plus)
up to 128 gigabytes of storage
time-lapse video
better autofocus thanks to a new sensor with Focus Pixels
Those pixels offer phase detection like DSLRs. The camera also shoots high-dynamic range (HDR) photos with one click of the shutter.
The 240 fps really makes this camera or phone pretty special. A lot of expensive film cameras can't do that!
The iPhone 6 Plus features far improved optical image stabilization so the lens physically moves to compensate for the movement of your hand. The iPhone 6 Plus also has a larger display. It is a 5.5-inch Retina HD display with 1920-by-1080 resolution and 401 ppi.
On the other hand, the iPhone 6 (without the plus) uses digital not optical image stabilization and its display is smaller – a 4.7-inch Retina display with 1334-by-750 resolution and 326 ppi.
Ricky Fosheim directed a feature film "And Uneasy Lies the Mind," which he shot entirely on an iPhone 5 for $15,000. It was accepted into this spring's South By Southwest Film Festival. Should be available as VOD before October.
Some of the tools he used:
iPhone SLR Mount $175 for Nikon lenses. A mount is also available for canon lenses.
Olloclip 4-in-1, $65 includes 10x macro, 15x macro, Fisheye with a 180-degree field of view, Wide angle lens approximately doubles the field of view
FiLMiC Pro, $5 a filmmaking app which gives the iPhone better zoom and control over frame rates and stereo recording support.
Both iPhones can take HDR shots with a single click of the shutter, rather than a series of shots as before. Apple has also brought back True Tone Flash, which, as before, uses two different LEDs to attempt to match the color temperature for better flash photos.
The new iPhones will be on sale on September 19, 2014 in the U.S., UK, France, Canada, Germany, Australia, Hong Kong, Singapore and Japan.