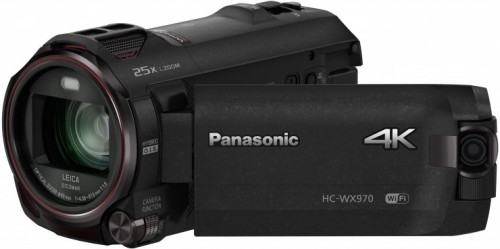 While the new Panasonic 4K cameras WX970, WX 870, and WX770 are consumer cameras, they make amazing video. These Panasonic 4K cameras shoot HDR video and 1080 at 240fps. Take a look at this video. Full screen and hi-res are recommended.
And if you ever wanted to do HDR in video like still photography, now you can. In the video below, note the contrast range improvement when HDR is turned on. You don't have to choose between exposing for either the light or dark areas. Now you can have both without blown out highlights or too dark shadows.
Combining the two exposed frames in one frame make exposing challenging scenes that have both hot high lights and dark shadow areas a lot easier than it used to be.
There is also a secondary camera built-in to the WX970 (the 870 and 770 both allow the smartphone feature since they don't have two cameras on-board). As Panasonic says "This additional camera provides 270° panning and ±20° tilting for recording two angles simultaneously. The twin camera operation also features a narration mode to record ongoing commentary while shooting. For more versatility, you can connect your smartphone via Wi-Fi and use that instead of the built-in secondary camera. With this functionality you can shoot from alternate distances or angles for a variety of picture-in-picture images."
Here's a video showing how the second camera can work:
Panasonic HC-WX970 4K UHD Camcorder with Twin Video Camera Specs:
4K Ultra HD Video and 8MP Still Photos
1/2.3″ Back-Illuminated MOS Sensor
3840 x 2160 up to 30fps, 1080p up to 120fps (240fps with interpolation)
Articulating 5.27MP Secondary Camera
20x Optical Zoom / 50x Intelligent Zoom
HYBRID OIS 5-Axis Image Stabilization
HDR (High Dynamic Range) Video Recording
Capture 4K Frame Grabs from Video
Wi-Fi for Remote Operation and Live View
IR Night Mode
Availability: Late February/Early March 2015
Price: $1,000
Check out the full specs and availability at B&H Photo.
Keep Reading...