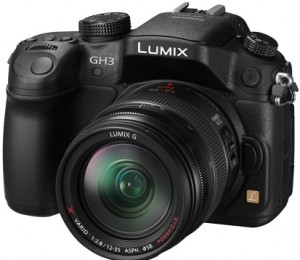 $1,299.00 w/o lens
The Panasonic GH2 just got a new brother. The Panasonic GH3. This is a Digital Single Lens Mirrorless (DSLM) camera. Here are the differences between it and the GH2.
The first thing you will notice is that is it bulkier than the GH2. Most early previewers think this makes it easier to use. The camera has a magnesium-alloy frame and is sealed against dust and water. It has an improved sensor and the ISO range has increased to 12,800 which can be boosted to 25,600 so this will be a good low light camera.
The GH3 can capture video at 60p compared to the 60i /30p of the GH2. The GH3 has a very fast 72Mbps bit rate. There's now a 3.5mm headphone socket. One of the big differences is that it can shoot in MOV as well as AVCHD and MPG4. Shooting in MOV means it can capture files natively as 30p, as well as 60i. With MOV it can be edited directly in FCP. There is also the choice of All-I or IPB compression (more of which later in the preview), both will improve the video.
The mike input is now 3.5mm rather than 2.5mm. The GH3 has an added control dial on its top plate and the control layout is much easier to use.
This has the same touchscreen features as the GH2, but this one also has more direct buttons on the camera itself. Auto Focus options are now moved to the touchscreen. There are now five function buttons on the body itself which can be assigned different functions.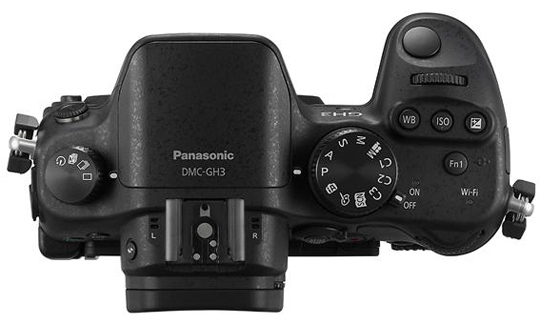 GH3 compared to GH2
Improved sensor and processor
Weather sealed magnesium alloy body
OLED EVF and rear display (compared to LCD)
60p video capture (compared to 60i /30p)
72Mbps bit rate maximum (compared to 24Mbps)
3.5mm mic socket (rather than 2.5mm)
3.5 mm Headphone socket
6 fps continuous shooting (compared to 5fps)
5 custom Function buttons (compared to 3)
Second control dial
HDR and multiple exposure modes
SMPTE Time Code
Body is designed for rapid heat dissipation for extended shooting
When recording the video in MOV, AVCHD Progressive and AVCHD, it automatically generates multiple

seamless files for continuous recording
For DSLRs, this looks like the best.