Panasonic HMC-40
MSRP: $2,295
Released in 2009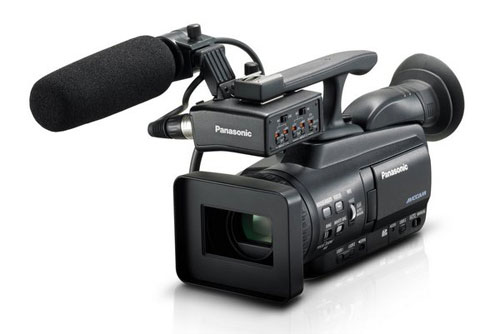 Summary: one of the cheapest and smallest (2 lbs) professional camcorders on the market. It records to SD/SDHC memory cards.
Pros: Sharp images in good light; good metadata support; small size and weight; professional features; 10.6MP high-resolution still photo capture.
Cons: 1/4 inch sensors do not do well in low light. Close-focus capability could be better. No built-in XLR connectors; Some touchscreen menu items, such as the shutter and audio level, are awkward to access.
The Panasonic HMC-40 is a AVCHD camcorder with three 1/4 inch CMOS sensors. The AG-HMC40 records 1080/60i, 1080/30p, 1080/24p, 720/60p. The 12x Leica optical zoom lens is equivalent to a 41 – 490mm in 35 mm. F-stop varies from 1.8 to 2.8. There is no ND filter.
The HMC40 has two focus-assist modes. Autofocus is pretty good. A single lens ring on the AG-HMC40 is used to manually control focus, zoom, or aperture.
The internals of the AG-HMC40 are very similar to the Panasonic HDC-TM300 which is $1000 cheaper. The main difference is the HMC40 records solely to SD/SDHC cards. The smaller and cheaper TM300 can record to a 32 GB HDD or SD/SDHC memory card.
Viewing
LCD is 2.7 inches with a resolution of 230,000 pixels. The viewfinder has a resolution of 113,000 pixels.
Storage
AVCHD video is stored on SD/SDHC memory cards
Professional Features
Built-in waveform monitor. Very handy for lighting green screens.
Zebras can be set at 70 percent up to 105 percent. Zebras work like a light meter for determining correct exposure.
Intervalometer which can be used for shooting stop-motion video like claymation, a splash, a building construction, a flower blooming, or a sunrise. A single frame can be recorded every second, every 10, 30, 60, 120 seconds. Playback is at 24 fps.
Image-control settings for detail, gamma, knee, and matrix.
A prerecord function which allows you to record three seconds of video and audio before hitting the record button. It works because the camera continually stores three seconds of video in a buffer. When you are shooting fast moving actions like sports, this very helpful, however it sucks up battery life.
A synchro scan shutter which you can dial in for synchronizing video monitors so there is no rolling effect. It can also help when shooting under discharge lighting like neon signs or mercury vapor street lights.
External User Buttons can be assigned to accomplish a number of custom tasks such as increasing the gain or displaying the waveform.
A Videographer Writes
I had planned to upgrade my camera from the prosumer Canon I had been using to something more professional. I really had my heart set on the new (at that time) Sony NEX 10. I even drove two hours to a Sony store to see and hold it. While I was impressed, I didn't feel the magic that I"˜d hoped I would. Over that weekend, I continued my research and found the Panasonic HMC-40
The HMC-40 is considered a professional camera. (The Sony was another prosumer model) The HMC-40 shoots in AVCHD, a format that I was not at all familiar with. There were enough samples of footage, and even an "unpacking" video on YouTube, that I felt like I did not have to see or hold it to make a decision.
The shipment arrived, and along with the camera and accessories including a manual. The camera is very small, weighing only two pounds, but it is well balanced. The 250 page, spiral-bound guide covering both the HMC-40, and its big brother, the HMC-150 was the most complete and informative manual I had ever seen. The most informative part of the book is the way it explains the hows and whys of using the manual settings. Nicer, still, is the fact that while I become comfortable with that, I can shoot in auto mode and know that everything is being taken care of.
There is a lot to love with the HMC-40. It's lightweight, and has a unique handle on top that makes low angles easy to shoot. That handle also carries the hotshoe. Plugs are arranged logically. There are three soft plastic covers at the rear of the camera: A/V and component out, headphone jack, and remote. On the right side are the USB, HDMI and mic jacks. One of the reviews I had read while doing my research said the plastic covers were cheap, and could damage easily. I don't feel like that is a problem, although the mic jack cover can be cumbersome to close securely.
Audio
The mic jack is 1/8 inch. Panasonic makes an XLR adapter (for an additional $300) which mounts conveniently by the hotshoe. But I also purchased the Rode shotgun mic which seems to be made for this camera and uses a 1/8 inch plug. I also use a couple of tie clip mics. The camera's own internal mic is also adequate for close-up work.
This camera gives you options: Bright sunshine can be a problem for viewing the flip out LCD screen, but keep the screen in place, and you can see perfectly through the eyepiece. And the focus ring can instead control your zoom with the flip of a switch.
Internal controls and shooting controls are handled with a touch screen menu. You can shoot at 1080 or 720 as well as 30p, 60p, 60i or 24p. I shoot mostly in 720/30p, and the images, even with green screen are remarkable.
I have had no problems at all with the AVCHD format. I did have a custom dedicated editing system built at the same time I bought the camera, so I was starting fresh all around.
I love the camera. I must still be in the honeymoon phase, because I haven't experienced any cons yet. For between $2000 and $2500, depending on where purchased, the HMC40 delivers a powerful experience at an affordable price.
Ron Harper
(http://videosonyourwebsite.com)