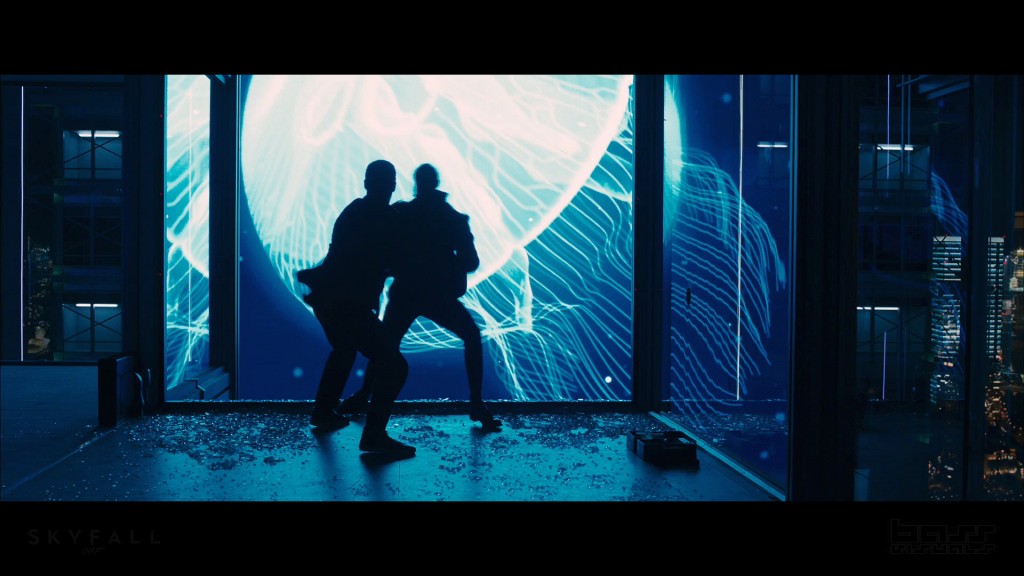 Still from the James Bond film Skyfall,
featuring a giant jellyfish which was
created as a stock video by Bass Visuals (http://bassvisuals.com).
Many articles advise you to sell Stock Footage, but few give you the whole story. For that you need to listen to the people who actually sell their footage that way.
Meet Paul Jakovich. He has been working as a 3D artist for ten years. He produces stock footage during his downtime. His "Jellyfish Nightlights" pictured above has appeared in feature films such as Skyfall, the James Bond film and The Darkest Hour, as well as numerous commercials. It has sold over 150 times. You can purchase that clip in HD from a stock agency for $79.
As Paul says "The jellyfish were created entirely in 3D. After modeling and texturing it was time to make the jellyfish move. The hood of the jellyfish was rigged traditionally with a series of bones while the tentacle motion was driven by a cloth simulation. Translucent shaders and some compositing effects gave the jellyfish their luminescent appearance."
He started by selling clips on his own website BassVisuals.com, but sales were so low he started submitting his footage to all the major stock footage sites. Paul says in his article "Make Money Selling Stock Footage Video" that it is best to let others sell your footage. The big agency sites are where all the customers go when they want stock footage. These large sites do all the marketing so why compete with them?
Jakovich is the director at League of Monkeys which is currently developing Torque Street Racing, an IOS game to be released later this year.
How Much Can You Make Selling Stock Footage?
The founder of iStockphoto recently stated that some of their top content contributors are bringing in $20,000 per month. But that is very rare out of many thousands of content contributors.
Check out the iStock forum where some community members say that with 100 – 250 pieces of media in their portfolios, they make between $50 and $100/month. Top performers are in the so called "Diamond List." This shows that most of these top performers have over 1000 photographs, illustrations, animations, and videos to their credit.
Some of the major players in this business hire models and travel to exotic locations to create stunning stock shots. They artists are prolific and have thousands of clips to their names.
Paul says his best sales month was June 2013 US$1677, but he hasn't contributed new stock clips since 2011. Overall, he says his total earnings from Bass Visuals sales have come to $35,985 US so far.
As one observer notes "When you can license beautiful 1080p stock clips for $20.00 and you get just a percentage of that, how are you going to make a living doing that?"
Another Stock Producer
Some people find a niche within the stock agency collections. Others like Julian Meli, who sells stock photos and videos, believes it is more profitable to collect a wide diversity of clips and lots of them. He thinks working with actors or models is most profitable, but that it is very important to do your research at the agencies' websites.
People who are looking for stock footage don't use Google. They go straight to the stock footage agencies. If you work at it, you may make $50- $100/month when you start out. If you are a consistent producer and keep at it for a few years you might make $300 – $500/month. Julian says his best year ever, he made over $5000. He has over 1700 clips in various galleries.
Julian has created "The Ultimate Guide To Making Money with Stock Footage" for sale at his web site. As Julian says, "Don't get into the Stock Footage business just for the money."
How To Sell
Study the Agency Sites
You need to know their requirements before you start. Here are a few of their links:
Pond5 – https://contributor.pond5.com/
Shutterstock – https://submit.shutterstock.com/
Getty Images – https://www.gettyimages.com/workwithus
See what the best sellers are. See who the top contributors are. See what niches seem most popular. Most people agree that it is smarter to spread it out over a few of the top agencies rather than signing an exclusive deal with just one, even though they may offer you a higher percentage.
Clips are ranked by the search engines in each individual stock agency site, rather than by Google. The clips appear in order by their keyword accuracy or relevancy, number of sales per views and possibly the initial ranking of the staff at that agency. There may also be hidden metrics which contribute to the top listings.
Paul says the stock agencies that have been most profitable for him are iStockphoto, Pond5, Shutterstock, Clipcanvas and Revostock. He uses others as well, but these have been the most profitable. In his article he even shares his monthly sales figures.
Don't spend much time on SD footage as the demand is mostly for HD. Paul says "If you keep your stock footage under 30 seconds in duration, under 750MB's in size and encode it as a Quicktime (Photo-JPEG at 95% quality) you will meet the submission requirements of most of the stock footage agencies." The biggest demand is for HD footage, but in the near future it will be for 4K footage.
Additional Requirements
Keywords
Each clip will need a title as well as good keywords. Keywords are vital as that is what buyers search for. Some people shoot still and video so they can submit both. Sometimes a photo is accepted where a video is not.
When Do You Need Releases
If you have actors or people in the shots, you will make more money, but you must submit signed releases with any footage you upload for sale.
According to Pond5 "Before uploading clips of public buildings or landmarks, do a bit of research to see if you can legally sell images of it. For example, did you know the Hollywood Sign is owned by a nonprofit trust, and requires their permission for it to be shown in commercial films? For that reason, all clips of the Hollywood Sign on our site are marked "editorial only"). We may be able to answer some of these questions, but you can get much more comprehensive information online."
What Stock Footage Shots Sell
Backgrounds & abstract
Emotions
Architecture
Business (i.e. video for growth, charts, computer, technology, money, teamwork)
Real estate
Healthy living
People
Time Lapse used to do well until inexpensive DSLRs made time lapse affordable for everyone.
Those are some of the niches that have done well, but this kind of list changes every day so do your own homework. Don't assume there is still a large market for any of the above topics.
Conclusion
Spend lots of time on the agency websites. Learn to use the sort feature to find the most popular or most downloaded. Study the files. Do they use models and actors? Are they professionally lit? Are they using jibs or dollies. Are they regional?
Read the articles, forums and tips on the top agency websites. This is important homework to do before starting your own portfolio.
Update
A reader writes:
Today the problem is pirated stock footage.  We are finding our footage being pirated and uploaded to various stock footage companies and sold without our knowledge or permission.  This makes the buyer open for copyright lawsuits because they wanted to try and go cheap that ends up costing them thousands or tens of thousands more in the end.
How do I know?  Going after the competition stock sites has almost become a full time job.  Currently in talks with several of them over them selling pirated material that are trying to cover their ass for their clients that bought the material.
– Douglas Kiesling
Stormchasingvideo.com