News at Eleven:
Shooting TV News
by Ivan Snopek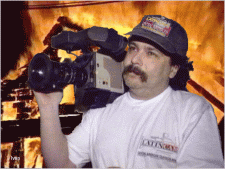 Editor's Notes:
EMS = Emergency Medical Services
MVA = Moving Vehicle Accident
CPR = Cardio-Pulmonary Resuscitation
What the News Producers Want
BIG CITY
1 Big disasters
2 Terrorism acts /Hate crimes
3 Famous people getting into trouble or accidents
4 Many members of a family involved in something bad
5 Children shot or murdered
(crimes against children or crimes committed by children)
6 Police brutality
7 Police shootings (police shot or police shoot)
8 Anything that affects a big part of the population
9 Unusual rare things (huge fires odd rescues etc.
10 Children or animal rescues
MID SIZE CITY or SMALLER COMMUNITY
1 All of the above
2 Homicides
3 Shootings
4 Fatal car accidents
5 Crimes against seniors
6 Structure fires
7 Rescues
8 High speed police chases
9 Accidental deaths
DON'T WASTE YOUR TIME ON
1 Suicides
2 Natural deaths /Overdoses
3 Routine traffic accidents
4 Small fires
5 Medical emergencies
IS THIS FOR YOU?
As you can see this is a cold blooded business. Unfortunately you have to provide the producers with video of violence, death and tragedy. If that is not enough, you also have to concentrate your shots on the pain of the people affected. You will be seeing the worst of our society on a daily bases and you will be close to the sights, sounds and smells of death.
If you can put up with the above, you will receive a pay off. For example I covered a fatal hit & run accident of a young man. This is normally not a big deal in the news business (dime a dozen). Anyway it was a slow news day and I submitted my footage to the most watched news station in the region. For some reason they did a two minute story on it for three days. This kind of footage usually gets fifteen seconds and it's buried in one broadcast only and that is if you are lucky. Because the media turned this story into such a frenzy, every cop in the city was looking for the suspect and lots of news viewer tips were coming in. BINGO they caught the guy. You do not know what a good feeling you get knowing that you helped bring this guy to justice.
HOW MUCH WILL THEY PAY ME?
First of all don't commit any crimes, if you start showing up at crime scenes the police will get to know you. Second don't stalk anyone, it is against the law. If you do commit a crime or stalk someone you will be paid a jail sentence and a heavy fine.
NO, REALLY HOW MUCH DO THEY PAY?
It depends on what you get, how early you get it, who else shot it, what else happened that day and want kind of a mood the news producer is in. If you get a plane crash and you are the only one with early shots (plane burning, rescuers pulling out victims), go for a four figure amount. If someone shoots a cop and you are the only one with shots of the cop before EMS takes him away, go for a three figure amount. If you shoot a single fatal MVA, be happy if they offer you $75. If you shoot someone famous in trouble, go for a five to six figure amount. How much they pay all depends.
WHAT CAN I EXPECT MY AVERAGE MONTHLY INCOME TO BE?
Maybe $75 or Maybe $7,500. Really it depends on how much time you put in, how many people are working in your area, luck and how hungry the news producers are
IS IT DANGEROUS?
Yes, it can be You will be working in crime infested areas or near structure fires with live wires down and a real possibility of an explosion or at a dark rainy highway near a fatal Motor Vehicle Accident. CAUTION NEVER GO TO A CRIME SCENE BEFORE THE POLICE ARRIVE AND ALWAYS LEAVE BEFORE THE POLICE LEAVE. Buy a bullet proof vest because you will be in the worst areas in the middle of the night shooting bad guys.
POLICE SCANNERS
Buy scanners that pick up the police, EMS, fire, Coast Guard, air traffic and mountain rescue frequencies. Get to know the codes for shots fired, officer down, DOA and so on.
BEST TIME TO WORK
Night time. The reason for this is that most news gathering TV employees don't work at night. Also a lot of crimes happen at night and the roads are not busy so you get many high speed fatal accidents and structure fires that don't get noticed until they become really big because people are sleeping. But choose say a five square mile area that you can scan at anytime because if something big happens you will get the earliest shots and a sale.
WHAT DO I DO WHEN I GET TO THE SCENE?
Never block in any emergency vehicles and always leave enough room for them to come and go. You might show up early at a one alarm structure fire thinking you left enough room but the fire might quickly turn into three alarms and they might discover three trapped people. That's a lot of extra fire trucks and EMS units that will need priority space. Always respect crime scene tape. Never cross it. If you arrive at a crime scene before the police had a chance to put up crime tape, never trample all over the scene you might ruin their chance of recovering evidence by contaminating it. Never get in the way of emergency workers. You might prevent them from saving a life.
HOW DO I SHOOT THE SCENE?
Always look for emotions. That's what makes the story. Shoot things that won't last. Say you arrive at a huge structure fire. You see 1. Big flames coming out of the windows. 2 A middle aged woman in a bath robe shivering. and 3. EMS giving CPR to an infant. Always shoot the infant first This shot will become the whole structure of the news clip. You might only get five seconds for this dramatic shot before EMS takes the baby away. If you can frame a close up of the baby with flames in the background, do it but don't waste time looking for the most dramatic frame. Time is precious. Take any shot you can of the infant. Next look for good frame ups of the fireman putting out the flames. Don't just shoot the flames. The drama is the firefighters risking their lives. Look for the firefighter most at risk e.g. up on the roof. Next shoot the middle aged woman in the robe. Ask her nicely for an interview.
HOW DO I SET UP MY INTERVIEWS?
Try to interview the victim's relatives or friends.If that is not possible, get the people that were on the scene the earliest. Set them up so you have some action in the background if possible. Try not to shoot near very loud noise. Warn them before blinding them with your video light. Always use an external mic. Don't do an interview with your built- in camera mic because these mics are usually omni directional and will not do a good job on an interview. Use an external uni-directional mic like a hand mic, shotgun or lavaliere. Next look for a police supervisor, head of EMS and a fire investigator and try to get some sound bytes.
WHAT DO I ASK IN MY INTERVIEWS?
Civilians
First get them to spell their names on tape so the news editor can pass it on to the graphics department. Ask them what relation they are to the victim if any, what they saw, what they were doing in the area, has this happened before, are they afraid it may happen again. Let them talk. The news editor will cut this down.
Emergency officials
First get them to spell their name and give you their rank on tape. Ask them what happened, how many dead, how many injured, how serious, what caused it to happen, how many suspects in custody, how many outstanding, any description, could this have been avoided, how, get as much info as you can from the officials.
WHEN DO I NOTIFY THE PRODUCER ABOUT MY FOOTAGE?
As soon as you shoot the footage, remember you are shooting for a news broadcast and not the history channel. If there is one thing the news producers hate, it's old news
WHAT DO I TELL THE PRODUCER?
Tell them exactly what you shot and the truth only. Don't exaggerate, these people are in the news business. They will know. If you lie to them, they will blackball you from the business.