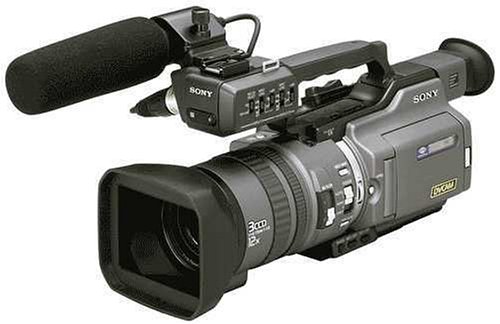 Summary: Great professional 3 chip SD camera with exceptional low light performance, XLR inputs, beautiful image and colors.
The Sony DSR-PD170 ($3,940 MSRP ) produces excellent video especially in low light. The PD170 has a low light sensitivity of 1 lux. This Standard Definition camera was the standard workhorse for many years. It includes three 1/3 inch CCDs each with 380,000 pixels.
Pros: The champion for low light shooting, balanced xlr audio inputs, gorgeous colors
Cons: Manual iris control and manual audio controls are both a bit awkward.
The auto white balance is surprisingly good, but like most can be easily confused when dealing with multiple light temperatures. Manual white balance is easy and fast. A Sony high capacity battery will run the camera all day.
Lens
Fixed optical 12 x zoom lens. Includes a separate 1.7 x wide angle lens adapter which is large and heavy but does a pretty good job and comes with its own lens shade. The autofocus is very good in most situations, one of the all time best autofocus setups. In addition to full auto, the lens has manual iris, focus and zoom. The focus and zoom rings are rubberized and textured. Built-in ND filters, 3ND and 6 ND.
Viewing
The electronic viewfinder is black and white 180,000 dot LCD with an adjustable diopter. The articulated LCD monitor can be used simultaneously with the viewfinder. Zebra stripes can be set at none, 70% or 100%.
Audio
Sound quality from the on-camera microphone is excellent. I have never heard noise from the transport or zoom motors of the camera. The best audio, however, is typically recorded from off camera balanced mics plugged into the XLR inputs.
The two-channel XLR breakout box is mounted on the right side above the handhold. You can select mic/line levels, 48-volt phantom power and select channel mixing and attenuation. Auto Audio Gain Control is pretty accurate, but manual control is available. You can see the VU meters on the LCD. Setting levels manually requires pressing a button then turning a dial. This is slightly awkward, but you get used to it.
Media
The camera records to DVCAM/DV tape only. There is no image quality difference between recording on MiniDV or on DVCAM.
If it weren't for the need for HD, I would not sell my PD 170. It is well-designed and well built, a true workshorse. This camera is no longer made, but many used cameras are available.