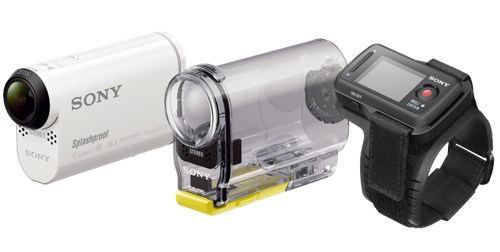 This POV camera has some significant advantages over the GoPro Hero 3+. Most notable is that you can view and control the camera via a smartphone or the optional Live View Remote which you wear on your wrist. The Zeiss lens is very sharp. Sony's image sensor 1x 18.9 Megapixel 1/2.3″ CMOS. The sensor can record 1080 60p. Users seem to agree that the video quality is far superior to the Hero 3+.
The Sony AS100VR
is a vast improvement over the Sony ASV15 and the AS30. It seems that all of the quirks of those predecessor cameras have been corrected in this new AS100R.
Dynamic Range
The AS100V adjusts the exposure very quickly in dramatic light change such as riding a bike and coming out of a tunnel. Some auto exposure cameras are slow to adjust in this kind of change.
Low light looks good also. Recording under streetlights looks sharp and clean. Much better than the Hero 3 or 3+, but in fairness it is only slightly better than the Hero 2. The Sony just has a better CCD.
Some users complained about the "Live View Remote" and advise others to avoid buying this remote, but to just use a smart phone.
XAVC Format
There's the option to record in XAVC format if you buy a high speed memory card. This format is the same that is used in high end Sony CineAlta cameras like the Sony PMW-F55 and Sony PMW-F5. These are routinely used in feature films. The XAVC format supports color depths of 8-bits, 10-bits, and 12-bits. Chroma subsampling can be 4:2:0, 4:2:2, or 4:4:4. This is pretty amazing for a POV camera. The Sony XACD format is supported by Adobe Creative Suite 6, Avid, Final Cut Pro X, Grass Valley's EDIUS Pro 7, Quantel, Rovi MainConcept SDK, and Sony Vegas Pro 12.
Stabilization
The superior Auto Stabilization makes this camera ideal for bike riders and other vibration-prone shooting. The video below tells the story.
Additional Features:
1. Slow motion 240 FPS at 480p and 120FPS at 720p.
2. Can shoot at 170 degrees or crop to a less wide 120 degrees. Shutter Angle Determines Exposure Time. To convert shutter speed to shutter angles at 24 fps the math is:(24 x 360) / Time Fraction (i.e 8640 / xx where xx is 1/ xx sec) So the equivalent shutter angle for 1/50 sec shutter speed is: 8640 / 50 = 172.8 (i.e 172.8 degrees)
3. There's a tripod screw on both the camera and waterproof case.
The waterproof case has a standard 1/4 screw hole, and the camera has a 1/8. It also comes with a 1/8 to 1/4 base should you wish to use the camera on a tripod without the waterproof case.
4. Both the camera and the wrist display charge via standard micro-USB. (Android phone charger)
5. On-board GPS
GPS doesn't require specific software or a website to use (although you have the option). It saves the data in a .log file, so you can load it into just about anything.
6. Easy smartphone integration/preview/sharing.
Go Pro Advantages
The GoPro's compatibility with all the mounting accessories is a big plus. The GoPro has better buttons, it's easier to turn the Sony on accidentally.
The GoPro's battery life may be longer. Sony's battery life is pretty short. You will need to buy some additional batteries if you are planning on shooting for more than 45 minutes or so. To extend batter time, don't use WiFi and GPS. They each burn batteries quickly.
While the GoPro HERO3+:
is still the market leader, Sony's AS100V is easily as good or better.