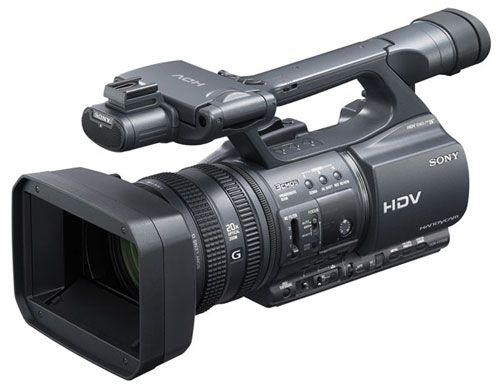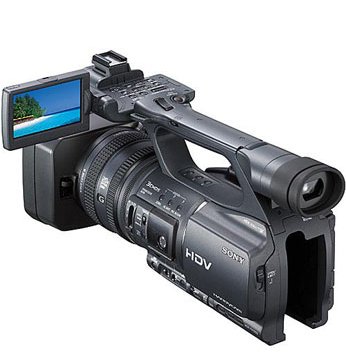 Sony HDR-FX1000 and HDR-FX1000E
$3199 MSRP
Sony's Description of the HDR-FX1000
The following article applies to both camcorders. The only difference is that the HDR-FX1000E is PAL. ("E" is for European.) The HDR-FX1000 is NTSC.
This HDV camcorder was released in 2008, as the successor to the Sony HDR-FX1. It records HDV to MiniDV tape. It has 3 CMOS Exmor 1/3″ sensors, 1080p, 24p for the NTSC version 25p for the PAL version, fixed 20x G-Lens, HDV/DV Switchable.
Lens
Fixed optical zoom G Lens 20x, F 1.6 – 3.4, 35mm equivalent 29.5 – 722, three built-in ND filters, optical Steadyshot Image Stabilization System.
In addition to automatic functions, the FX1000 has manual aperture, focus and gain. But many people find that the manual controls are hard to operate. The scroll wheel is now on the side, but is difficult for larger fingers to use.
Audio
has a built-in stereo mic, but it is not removable
1/8th inch stereo input
external audio controls
no XLR inputs
button layout for some controls is difficult
no independent control of multiple audio channels
Viewing
HDMI output
3.2 inch LCD, 921,000 pixels
0.45 inch electronic viewfinder
A Videographer Writes:
by Clifton Firth
I bought this camera after reading other reviews of it, all singing its praises and suggesting it is the pinnacle of camera technology in it's price bracket. Now don't get me wrong here and think that this is a negative review before you've even read it. This is a users review and after 2 years using it professionally I have found its pros and got used to its cons.
The HDR-FX1000E is a well balanced camera only if you use the largest battery (NP-FH970) as the supplied battery (NP-FH530) really doesn't have the weight to counter balance the lens. The lens is Sony's G Lens 20x Optical zoom and I have found no faults with it. Sometimes I could use a little more magnification as I work a lot in close up from a distance. I advertise myself as a discreet wedding videographer and so I really do need a longer lens.
The body of the camera feels sturdy and the handle on top is great for holding the camera low and tracking somebody's movements. Although the programmable buttons under it are easily pressed with your knuckles. I have disabled these now after a bad experience activating the Zebra function during a wedding ceremony. It's your preference.
The software holds a wealth of different features from focus assist to time lapse and slow smooth record. All of which have their moments in the life of a videographer, but none are readily accessible on the fly. You could make them so by programming the 6 buttons under the top handle.
The level of manual control is just perfect for me, although it does take some getting used to for things like shutter speed, gain, iris all in a different ways. I have found that the cameras automatic adjustments in these areas (except shutter speed) is far quicker than any human.
Audio is taken care of via the stereo mic on the front. I only use this in emergencies or when I will be overdubbing with music. All other times I attach a Rhode video mic to the 3.5mm mini jack socket on the front of the handle. The onboard mic is pretty good actually, but I need something a little more sensitive for my work.
The 3 inch screen is very clear and bright and is in such a great position near the front of the camera. When you hold the top handle and the screen is underneath you it's great. I have used older cameras where the screen is on the side and this is only good for side held cameras. The only flaw to the screen is that you must open it before attaching anything to the hot shoe like a microphone or a light. If you don't then you will have to remove the attachment then open the screen. I have lost count of the number of times this has happened to me.
The steady shot isn't quite as steady as I would like it to be. 80% of the time I use a tripod so it doesn't really affect me. If you wanted to induce sea sickness then it is very possible to achieve this with this camera if you don't hold it steady enough. Seriously though it could be improved and it is if you pay for a higher spec camera. As we are reviewing the FX1000 then I suppose it is acceptable.
The HDR-FX1000e uses MiniDV tapes. There is a slot for a Sony ProDuo card on the side but this is for taking still shots only. Personally I don't see the point of getting a video camera of this level and wanting to take stills with it. The good side to this feature is that you can take stills of your video footage. Why would you want to do that? Using actual frames make great marketing stills for a video company. Back to the MiniDV tapes and I have to say that I am currently looking at a firestore for each of my HDR-FX1000E cameras. Transferal (capture) takes forever especially after an all day shoot like a wedding. It is a down side but with things like the Firestore by Focus you may not need tapes.
I mostly film in SD but occasionally have a request for HD. HD takes it's toll on this camera and it seems to become unresponsive. You press the start button and then standby flashes for about 3 or 4 seconds. I have no idea why it does this but I am never sure if it is actually recording for those few seconds or if I've missed my opportunity. It's a worry while filming on the fly. Dropouts or dropped frames – every editors nightmare. Only during HD capture do I get dropped frames. It can't be the tapes as it would do it during SD wouldn't it? That blotchy pixilated red screen of doom that seems to pick it's moments with precision, right when the groom kisses the bride or the ring exchange! Now don't get me wrong I can use 10 tapes and only1 will have a dropped frame and it is only while filming in HD. I can live with it as I always use several cameras but no-one needs the hassle of it. Show me a MiniDV camera that's never experienced dropouts!
Pros – lens, manual control superb, picture quality, color reproduction and low light ability all outstanding.
Cons – tapes and dropped frames during HD filming, buttons under the top handle (they can be disabled though), the supplied battery.
Summary – For the way I work this camera is superb. There are ways to ditch the tapes and still use the same camera so for the close future I am future proofed.
I like this camera and will score it 9 out of 10.