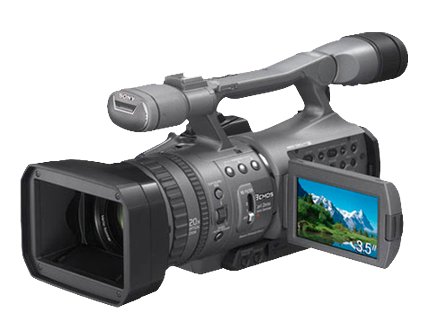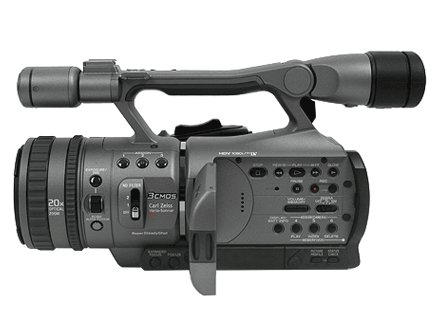 Summary: HDV 3 1/4″ CMOS camcorder which features 1080i HD, not great in low light.
MSRP $1999
The Sony HDR – FX7 was introduced in as an HDV camcorder. It features 1080i HD 16:9 resolution with 3 x 1/4" ClearVid CMOS chips. The effective sensor resolution is 1.04 megapixels. The CMOS ClearVID sensors are positioned at 45° angles. The result is sharper diagonal lines without "jaggies" which are a common issue in video.
The visuals created by the FX7 are generally very good., but the camera is not great in low light. It's predecessor the FX1 costs $200 more, has larger sensors (1/3″), and will do better in low light than the FX7. The two cameras have very different sensors and optics. While the FX7 is good in many ways, Canon's XH A1 is superior in many ways.
Lens
The camera comes with Carl Zeiss 20x Vario-Sonnar T 37.4 – 748mm, f/1.6-2.8. The lens hood has a built-in lens cover so you can't lose it. The lens is not interchangeable. The lens barrel has servo-controlled zoom and focus rings and a dial for adjusting exposure so there's no definite beginning or end point for the zoom or focus. When you get used to it, focusing with the ring works well, especially when used with the Expanded Focus button which is easy to reach with your left thumb.
Using EF mode zooms into the middle of the picture for easier manual focus. A one-push override provides an autofocus lock that you can tweak manually. This makes it much faster to focus on moving subjects. Use the override to focus on something close to the subject, then manually adjust for the subject.
There's also a two-step neutral-density filter – 1/4 and 1/16.
When the autofocus locks on a subject, the focus stays sharp. In this camera Sony corrected one of the complaints about the HDR-FX1. Unlike that camera, the FX7 can use focus peaking and zebra stripes at the same time. Gain, shutter speed, and white balance still have their own dedicated buttons. The optical stabilizer called Super Steady Shot works well.
Viewing
High Definition Media Interface (HDMI) sends uncompressed digital HD video signals to any HDTV.
Audio
The on-board mic is adequate. While there is an accessory shoe, the lack of XLR inputs relegates audio to less than ideal.