What Users Say about the Sony HVR-Z1U HDV Camcorder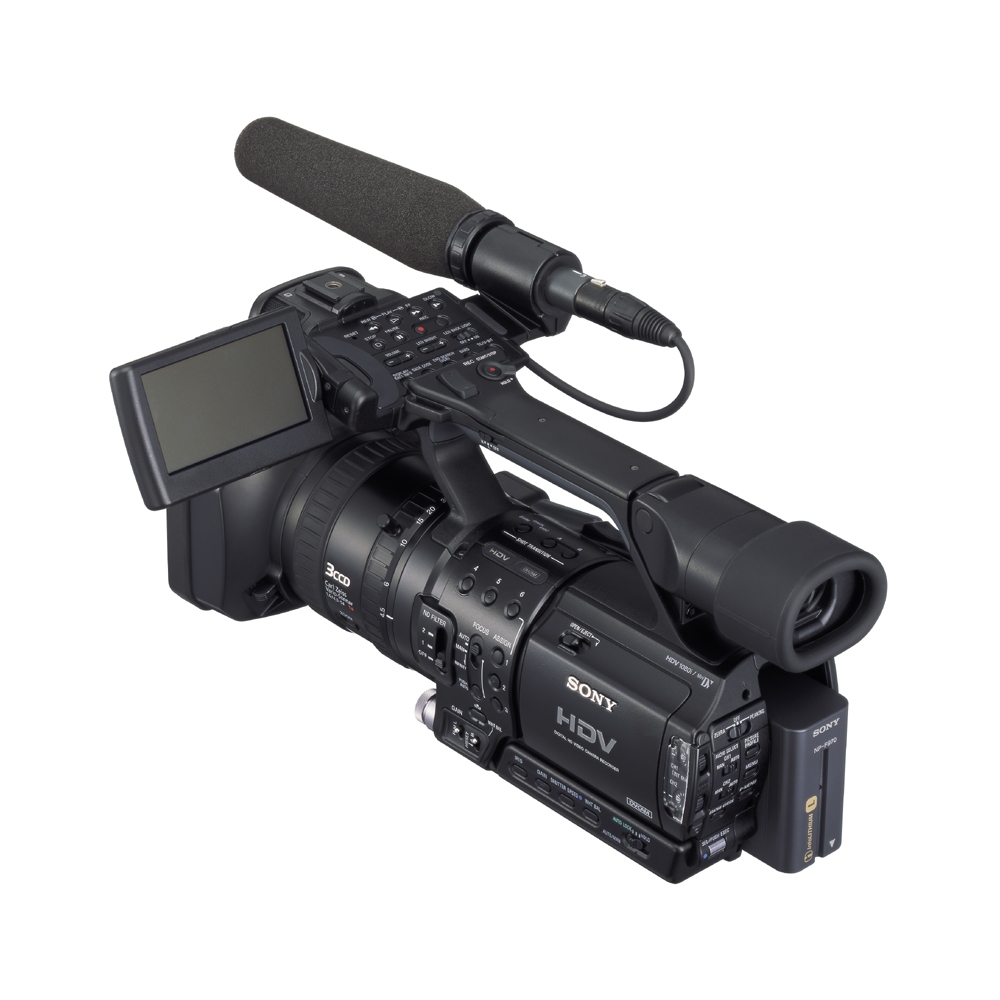 Released Feb, 2005 Sony HVR-Z1U is the professional version of the Sony FX1 and offers many features not found on the FX1. For instance: The Z1 has an hour meter so customers know exactly hour many hours of operation the camera has endured. The Z1 formats are switchable. It can record and play in DVCAM, MiniDV, and the HDV format. The camera has both NTSC and PAL and 50i/60i systems. The Z1 has XLR inputs so no adapter is needed for using professional mics. While the viewfinder can switch between color and black and white, it is somewhat small.
24p is really only an issue for those transferring video to film. In both cameras the true 24frame progressive mode is missing. Sony does what they call Cineframe 24, but this is a bit of a trick. This simulates the motion of true 24p so the result will look fine in video, but will not work when transferring to film. According to Adam Wilt's article on Cineframe "For film-outs, (it is better to shoot) at 60i and use a program like DVFilm's Maker or your film-out facility's own in-house process to convert 60i to 24p."
Focus Carefully for HDV
Focus is more critical when shooting HDV because the increased detail now reveals what in SD would have been acceptable errors in focusing. In other words you see the focus errors more easily.
Main Features
Switchable NTSC/PAL color system, 1080/60i, 1080/50i
Image Device 1/3-Inch 3-CCD Super HAD, 16:9 Aspect Ratio
Lens 4.5mm to 54mm 12x Optical Zoom f/1.6-2.8
72mm Filter Diameter
Minimum Illumination 3 Lux
Built-in Filters ND1: 1/4 (1.5 stops) and ND2: 1/32 (5 stops)
LCD Monitor 3.5 inch
Viewfinder Selectable B/W or Color, 16:9 (252K pixel)
Shutter Speed Range 1/4 to 1/10,000 seconds
Tape Format HDV – DVCAM – DV
Weight: 4 lbs 4 oz
List Price: $4900
Accessories
Schneider Optics (formerly Century Optics) offers a wide range of wide-angle lens adapters
Software to record HDV directly to hard disk.
This is a free application. Even though it's called a "D-VHS capture utility" HDV users claim it does the job.
Emmy Award- wining journalist and documentary producer Jon Alpert shot an HBO docu-comedy based on reality. "House Arrest," which premiered on the cable network on Nov. 24, 2005 with the Sony F1. This does not mean the Z1 is the ultimate camera. Jon's reputation in the business is not dependent on the camera he uses.
Quick Record Function Problem on The Z1
Hi everyone,
Just wanted to make everyone aware of a problem that I have had with my SONY Z1. Since owning this camera over 1 1/2 years now we have filmed constantly with the QUICK RECORD function set to ON. This has caused many problems for us and we were unaware that this was the cause of our timecode breaks on our tapes.
Every tape when captured would show timecode breaks or drop frames. Now it was not that much of a problem to begin with as I just cut the ends of the footage on the time line and kept going.
The problem arose when I tested my back up procedure. I backed up my project and not my captured media as I thought I could batch capture it when asked and it would reload the footage required. However, it would not do it. My editing program stopped as soon as it came across the so called 'dropped frame' or 'timecode break'. I have therefore since been backing up all my captured media.
Now… it does say if you read the sony z1 manual that this function may cause the changes between scenes to not be smooth… WHAT THEY MEAN IS IT WILL CAUSE PAUSES/DROP FRAMES/TIMECODE BREAKS…. DO NOT USE THIS FUNCTION.
It has taken a lot of consultation between myself, other information that I have found on the net and working with the repair guy to realise that the QUICK RECORD function has been the cause of all my problems.
I was told that maybe my tapes were no good… even though I was using Sony DVM60 pro tapes.
I was told that it was my editing program not handling how my camera was capturing.
I was told that my tapes may be tight to fast forward them and rewind them b4 use. – didn't help
I was told the record over the whole tape with the lens cap on – didn't help.
I was told that the quick record function should not be the cause of what was happening but it was save yourself all the hassle and turn the function OFF.
The function is not on the SONY FX1 only the SONY Z1 and apparently on some of their new SONY CAMS.
RustyB has also just experienced this problem and learned how to fix it from what I have shared. I hope that this post will save anyone who has this function on a lot of trouble and time. It really doesn't make so much difference with it turned off anyhow with regards to starting to record quickly. The only thing we have noticed is that if you are recording and stop and then want to start very quickly again that that is where you wait for it to start.
Good Luck everyone.
Cathy