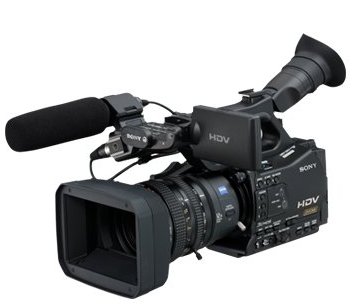 Sony Z7U: MSRP: $5999.00 with lens
Sony HVRS270U: MSRP $8,700.00 with lens
Summary: HDV, Interchangeable Lens System, Native
Progressive Recording, and Solid-state
Memory Recording and simultaneous recording to DV tape
The Sony HVR-Z7U is an HDV, handheld camcorder with interchangeable lens capability. It features Sony's (3) 1/3″ CMOS ClearVID sensors which are positioned at 45° angles. The result is sharper diagonal lines without "jaggies" which are a common issue in video.
The Sony S270 is a shoulder mount version of the same camera with just a few differences as we will explain in a bit.
In previous Sony prosumer models, Sony produced model pairs of camcorders that shared the same optics and sensors, such as the VX2000 and PD150, VX2100 and PD170, Z1 and FX1, V1 and FX7. The VX/FX was the consumer version and the PD/Z was the professional or prosumer version. The difference between the models was that the consumer models lacked professional features such as XLR inputs and some manual lens controls.
The Sony Z7 breaks this pattern as it has all professional features of previous prosumer models. It has no consumer equivalent, but it does have a larger shoulder-mounted equivalent sister camera, the HVR-S270. The Sony Z7U camera removes most of the annoying problems that plagued the Z1U. Most agree that the picture quality is excellent.
The camera captures in native progressive recording modes so it's 1080p, either 24p or 30p. This is different from the other Sony HDV cameras' "progressive scan" modes. These were pseudo progressive modes, but really interlaced modes. This HDV is true progressive.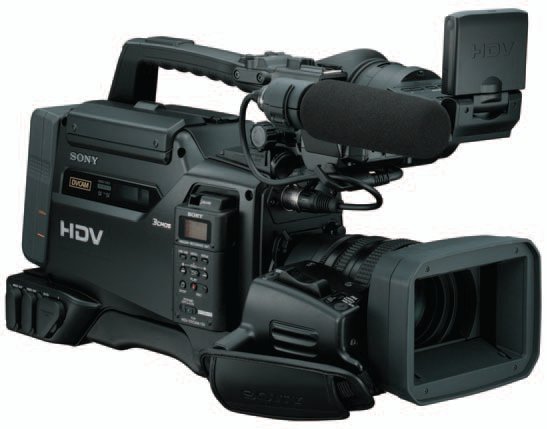 Differences with the HVR-S270
Internally these two cameras are nearly identical. The S270 is a shoulder-mount camera, it accepts longer-length tapes, it has HD-SDI output instead of HDMI, it uses different batteries, and it offers four channels of audio, but other than that, the two cameras are pretty much the same.
HVR-Z7 records only two channels of audio. The larger HVR-S270 has two XLR inputs in the front of the camcorder and two XLR inputs on the back of the camcorder. Each one has a separate audio level control and an automatic level control switch on the side of the camcorder.
Both cameras feature a low light sensitivity similar to the SD low light leader, the Sony DSR-PD170.
Lens
The standard lens is a 12x Zeiss lens, 32mm-384mm* (16:9) F1.6 – 2.0. It has a real focus ring, zoom ring, and an iris ring. (*These focal length values are calculated to be equivalent to 35 mm film.) There are two types of manual focus and an auto focus mode. Standard 1/3-inch HD video lenses, from Fujinon and Canon, can be attached directly to the HVR-Z7U and HVR-S270U. Other lenses can be used with special adaptors. The camera has three built-in ND filters (1/4, 1/16, 1/64).
Viewing
The LCD monitor is 3.2-inch (viewable area, measured diagonally) type XtraFineâ"¢ LCD. It has approximately 921,000 dots
The Electronic View Finder is 0.45 inches and has approximately 1,227,000 dots (852×3[RGB]x480). The EVF has a selectable display mode between color or black and white.
High Definition Media Interface (HDMI) sends uncompressed digital HD video signals on any HDTV.
The HVR-Z7U features two accessory shoes. There is a cold shoe on the front that can be removed to make room for a mattebox. There is a hot shoe at the rear as a screw-hole type
shoe located on the handle.
Storage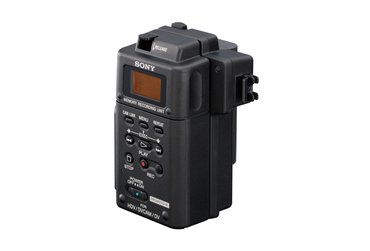 Memory Recording Unit
Every Z7U camera includes a HVR-MRC1 Memory Recording Unit or MRU. This unit allows users to record HDV/DVCAM/DV files to a standard CompactFlash solid-state memory card, while simultaneously recording to tape. You could even record HD on one, and SD on the other. The MRU attaches to the back of the Z7U. It does not require cables or its own batteries. It synchronizes with the camcorder so just turn it on and forget about it.
Ingesting footage from a CompactFlash card to a hard drive is about 400% times faster than capturing tape to a hard drive. You can get about 75 minutes of video onto a 16GB CompactFlash card.
Audio
The Z7U has dual XLR inputs. The S270 has 4 XLR inputs. The supplied ECM-XM1 mono microphone's S/N ratio is 78 dB. Both cameras have stereo mini-jack headphone inputs.