by Steve Slattery
Cedar Videography
http://www.cedar-videography.com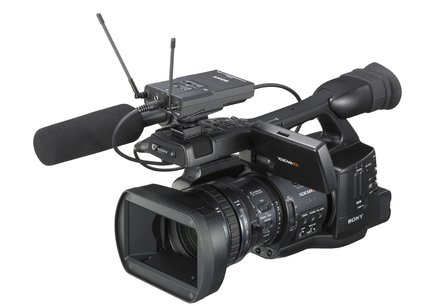 (Wireless not included)
$7790 MSRP
As a fairly late adopter of HD and an avid PD170 shooter, I had tentatively used a Z1 in the hopes of moving away from standard definition and 4:3 but was always disappointed at the low light capability my Z1 provided in comparison to the SD cams. Shooting weddings was always going to present some challenging situations and I never felt confident that the Z1 would be able to rise to those challenges. The Sony EX1 appeared to be an answer to my prayers and I became one of the earlier adopters (some would say beta-testers) for this camera.
Right from the start I felt comfortable with the EX1, as a long time Sony user many of the controls were familiar and the cam brought a number of benefits to the table for me in terms of its usability and of course the quality it produced. I remember thinking after using the EX1 for the first time, that it was quite a big step up the professional camera ladder and not only required a higher degree of skill to shoot with but also produced a noticeably shallower depth of field due to its ½" chips.
Things I Like About The EX1
The solid state recording is incredibly robust and has blisteringly fast read and write speeds compared to other formats. I've found using express cards I can offload footage to a laptop with built-in express card reader within just a few minutes. Using the clip browser software is very simple and gives a number of options for exporting to different formats dependent on your NLE. Currently I use Vegas Pro V10 which allows the user to navigate to the native video file and edit without any conversion, a real time saver when doing Same Day Edits. I love the fact that the cards are hot swappable, meaning I can keep running without having to stop recording to change media.
The LCD is one of the best I've come across and makes focusing and exposing a breeze, its seriously sharp and along with peaking (which has been significantly improved) and expand focus, getting your subject accurately focused is a lot easier. To aid exposure there's also a very handy histogram and menu adjustable zebra patterns, I find these most useful especially when using the cam outside.
Low light performance is great. Coming from SD this was one of my main concerns and I was pleasantly surprised at how well the EX1 coped in low light. Although I have never done any side by side comparisons I would rate its sensitivity on a par with my old PD170,s, shooting outside in direct sunlight the EX1 would need to be stopped down to around f9.5 with both ND's on, a similar setting to the PD170's. Noise levels are good up to 6db and useable up to 9bd at a push. From my own experience I have found the color rendition to be better in low light.
The EX1's standard profile is quite flat and gives you a fair bit of latitude in post. Detail in the shadows is good but for a more stylized look there are numerous settings that can be adjusted and stored, changing the contrast, saturation and brightness of your image straight out of the camera. My preference is to shoot flat and post produce the look you want after.
The standard lens is quite wide when zoomed out and has a 16 x zoom to bring you closer to the action when required. I feel that the lens gives me great flexibility in most shooting scenarios and coupled with the fact that I can flick a switch under the cam and go to full manual zoom, is a great feature to have and one that comes in useful when I need to liven up the footage with a few crash zooms.
There are numerous settings in the menu that will allow you to shoot in most formats and frame rates but one feature in particular that is worth a mention is the over cranking and under cranking settings. Setting the cam to record in 720p allows the user to change the frame rate and achieve great quality slow or fast motion. (Ed. Note 1 to 60 fps at 720P) It's not comparable to high speed cameras designed for this purpose but it's pretty good and certainly better than trying to re-produce the motion in post.
Accessories
Aside from the usual microphones/tripods/stabilizers that one would normally use with a camera of this type, I carry a few helpful accessories. Firstly I use a cheap and cheerful shoulder brace which with a bit of practice has allowed me to shoot at eye level and replicate the style of a full shoulder mount camera. The brace clips on using a tripod adapter plate and I've found that with the weight of the EX1 fully loaded and the camera's fairly wide lens I can achieve a reasonably steady shot when walking.
Century makes a great .6 wide angle lens for the EX1 that works using the camera's macro setting. It's a beautiful lens and although there is a degree of barrel distortion evident (not comparable to a fisheye) I think it adds great depth and is fairly easy to use. The wide angle lens just clamps on the camera in place of the hood and will only work when full manual focus has been disabled.
One of the major downsides to the EX1 is the cost of the Express cards. Fortunately there are adapters that will allow you to use SD cards. They seem to work well if you use a minimum class 6 SD card. I shoot extensively at the HQ setting (35mb per second) without problems, although I have heard of problems when over cranking and recording to SD cards.
The EX1s use their own proprietary brand of battery. The long capacity batteries last around 2 hours recording dependent on shooting conditions. You get plenty of notice from the camera when the batteries are running low. There's also a visual indicator on the battery itself to test it before attaching it. I also have an adapter that uses two Sony NPF batteries. This feeds the power into the cameras DC socket. Other compatible EX1 batteries work in a similar way, but the power indicator on the cam does not display the battery life remaining for these non-branded batteries. So for critical shooting I prefer to use branded batteries.
In Conclusion
The image quality of the EX-1 is incredible. It's been compared to some of the higher end XDCam disc-based cameras. Compared to my Z1, the EX-1 shows a noticeable difference in resolution and depth of field, and more vibrant colors. I believe that solid state is a distinct advantage over tape based recording and express cards, although expensive, are one of the fastest out there and provide a very robust method of acquisition. The EX1 is an expensive camera for event filming, but when you compare the specs of this camera to those of an XDCam camera, the price is justified and the choice is a no brainer.
As the use of DSLR's has become more prevalent we have started to mix footage of our EX1's with Canon DSLR's. Here are some examples:
Below are screen grabs from the PMW-EX1 at varying light levels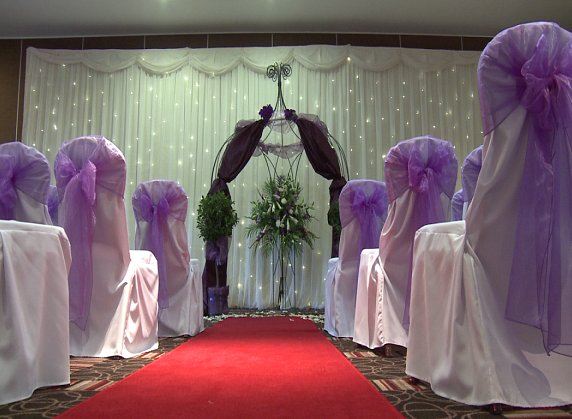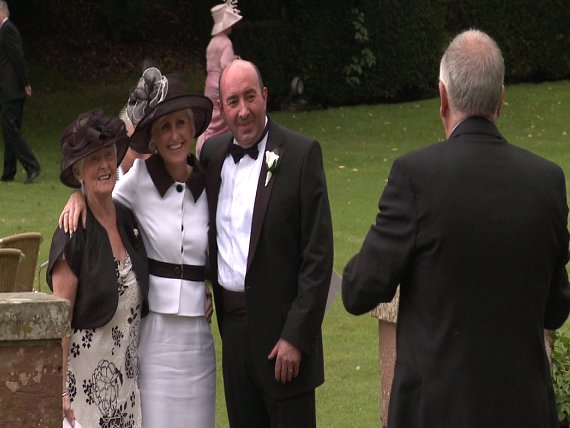 Technical Specifications
Mass

Approx. 2.4 kg (5 lb 4 oz) (body)
Approx. 2.8 kg (6 lb 2 oz) (with lens hood, large eye cup, BP-U30 battery, one SxS PRO memory card)

Dimensions (W x H x D)

178 x 176 x 311.5 mm (7 1/8 x 7 x 12 3/8 inches) without projection

Power requirements

DC 12 V

Power consumption

Approx. 13 W (while recording, with color LCD OFF, 1920 x 1080/59.94i mode)

Operating temperature

0 to +40 °C (+32 to +104°F)

Storage temperature

-20 to +60°C (-4 to +140°F)

Continuous operating time

Approx. four hours with BP-U60 battery
Approx. two hours with BP-U30 battery

Recording format

Video
MPEG-2 Long GOP[br}HQ mode: VBR, maximum bit rate: 35 Mb/s, MPEG-2 MP@HL
SP mode: CBR, 25 Mb/s, MPEG-2 MP@H14

Audio
Linear PCM (2ch, 16-bit, 48-kHz)

Recording frame rate

NTSC setting
HQ mode: 1920 x 1080/59.94i, 29.97P, 23.98P, 1280 x 720/59.94P, 29.97P, 23.98P
SP mode: 1440 x 1080/59.94i

PAL setting
HQ mode: 1920 x 1080/50i, 25P, 1280 x 720/50P, 25P
SP mode: 1440 x 1080/50i

Recording/Playback time

HQ mode
Approx. 50 min. with SBP-16 (16 GB) memory card, Approx. 25 min. with SBP-8 (8 GB) memory card

SP mode
Approx. 70 min. with SBP-16 (16 GB) memory card, Approx. 35 min. with SBP-8 (8 GB) memory card
Lens
| | |
| --- | --- |
| Zoom ratio | 14x (optical), servo/manual selectable |
| Focal length | f = 5.8 to 81.2 mm (equivalent to 31.4 to 439 mm on 35 mm lens) |
| Iris | F1.9 to F16 and Close, servo/manual selectable |
| Maximum relative aperture | 1:1.9 |
| Focus | AF/MF/Full MF selectable 800 mm to infinity (MACRO OFF), 50 mm to infinity (MACRO ON, Wide), 735 to infinity (MACRO ON, Tele) |
| Image stabilizer | ON/OFF selectable, shift lens |
| Filter thread | M77 mm, pitch 0.75 mm (on lens) |
Camera
Pickup device

3-chip 1/2-inch type Exmor CMOS

Effective picture elements

1920 (H) x 1080 (V)

Optical system

F1.6 prism system

Built-in filters

ND filter
OFF: Clear, 1: 1/8ND, 2: 1/64ND

Sensitivity (2000 lx, 89.9% reflectance)

F10 (typical) (1920 x 1080/59.94i mode)

Minimum illumination

0.14 lx (typical) (1920 x 1080/59.94i mode, F1.9, +18 dB gain, with 64-frame accumulation)

S/N ratio

54 dB (Y) (typical)

Horizontal Resolution

1000 TV lines or more (1920 x 1080i mode)

Shutter speed

1/33 to 1/2000 sec.

Shutter angle

180, 90, 45, 22.5, 11.25 degrees

Slow Shutter (SLS)

2-, 3-, 4-, 5-, 6-, 7-, 8-, 16-, 32-, and 64-frame accumulation

Slow & Quick Motion function

720P
Selectable from 1 to 60 fps as recording frame rate

1080P
Selectable from 1 to 30 fps as recording frame rate
Audio performance
| | |
| --- | --- |
| Sampling frequency | 48 kHz |
| Quantization | 16 bits |
| Headroom | 20 dB |
| Frequency response | 20 Hz to 20 kHz, +3 dB/-3 dB |
| Dynamic range | 90 dB (typical) |
| Distortion | Less than 0.1% (with input level of -40 dBu) |
Signal inputs/outputs
Audio input

XLR-3-pin (female) (x 2), line/mic/mic +48 V selectable
Mic: -8 dBu to -65 dBu (reference level)
Line: +4 dBu

A/V output

AV multi (x 1)
Audio: -10 dBu (reference level), 47 k?
Analogue composite: 1.0 Vp-p, 75 ? unbalanced
S-Video: Y: 1.0 Vp-p, 75 ? unbalanced, sync negative

Component output

Mini D (x 1), Y: 1.0 Vp-p, 75 ?, Pb/Pr: 0.7 Vp-p, 75 ?

SDI output

BNC (x 1), HD-SDI/SD-SDI selectable

i.LINK input/output

IEEE1394, 4-pin (x 1), HDV stream input/output, S400

USB

Mini-B (x 1), USB 2.0 High-speed

Headphone output

Stereo mini-jack (x 1), 16 ?, 30 mW

Speaker output

Monaural, 300 mW

DC input

DC jack

Battery input

5-pin

–Built-in LCD monitor–

3.5-inch* type colour LCD monitor, approx. 921000 effective pixels, 640 (H) x 3 (RGB) x 480 (V), 16:9, hybrid type

–Viewfinder–

0.54-inch* type colour LCD, 1120 (H) x 225 (V), 16:9
Built-in microphone
| | |
| --- | --- |
| Capsule type | Omni-directional stereo electret condenser microphone |
| Frequency response | 50 to 15000 Hz |
Media slot
| | |
| --- | --- |
| Type | ExpressCard/34 (x 2) |
| Interface | ExpressCard compatible |
Supplied Accessories
| | |
| --- | --- |
| Lens hood | |
| Large eye cup | |
| IR Remote Commander unit | |
| USB cable | |
| A/V connecting cable | |
| Component video cable | |
| Shoulder strap | |
| Operation manual | |
| XDCAM EX Clip Browsing software | |
| SxS device driver software | |
| SBP-8 SxS PRO memory card | |