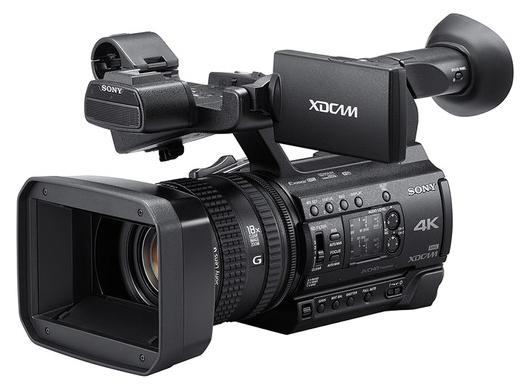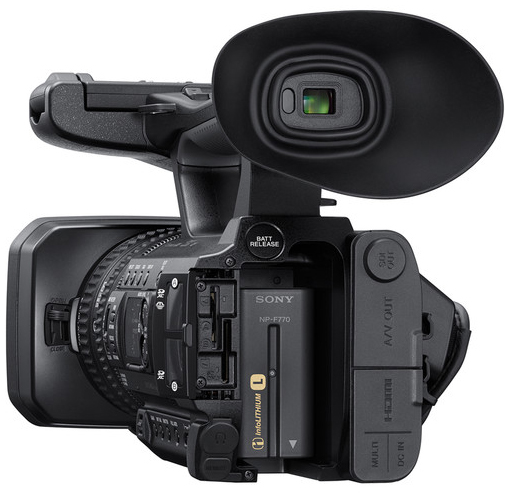 If you can live without interchangable lenses, the Sony PXW-Z150 may be ideal for documentaries or anything requiring long record times and a zoom lens. This prosumer/pro camera has a Sony 1 Inch Exmor RS CMOS sensor, shoots UHD 3840 x 2160p at 100Mbps up to 30fps. Has built in ND filters and XLR connectors. Here's the Sony pitch video.
With the 1 inch sensor you can easily get a shallow depth of field. The Sony G lens is 2x optical zoom lens from 9.3 to 111.6mm! This is the 35mm equivalent focal length of 29mm to 348mm. The variable aperture is f/2.8 to f/4.5. The integrated zoom lens has individual lens rings for focus, iris, and zoom. The rings have a mechanical feel, even though they are not mechanical. But they are endlessly rotating. The lens produces smooth, round out-of-focus highlights. It can be used in either full-auto mode with servo control, or as a completely manually operated lens.
The lens on the camcorder makes the Sony PXW-Z150 a good value at about $3200.
There is both a viewfinder and LCD monitor. The OLED viewfinder is 0.39″-type / 1.0 cm (approx. 1.44 M dots). The LCD Monitor is 3.5″ / 8.8 cm (approx. 1.56 M dots). The OLED viewfinder has a fantastic picture. OLEDs have shorter lifespans than LCD screens so Sony designed proximity sensors into the camera that turns the OLED off when it knows you are not looking through it. When this happens the picture appears on the flip-out LCD screen instead. But the sensor can be fooled by a hand or arm being too close to the viewfinder. You can turn this automatic switching off. Some people returned their cameras mistakenly thinking it was broken when the viewfinder turned off. It's part of the design as mentioned above.
The Sony PXW-Z150 can livestream with built-in WiFi which does not require any additional accessories. It has a remote control app so it works well as an unmanned camera.
The camcorder can store 6 picture profiles which can be shared with others. The camera also features Sony's Slow and Quick Motion for shooting HD video at variable frame rates up to 120 fps. It records to two SD memory card slots. You can record simultaneously to both cards or use the relay mode which switches recording automatically to the second card when the first memory card is full.
The Sony PXW-Z150 includes Night Shot capability for shooting in extremely dim lighting conditions. For legal depositions it has a date/time stamp as well as timecode. You can choose a variety of codecs: XAVC Long GOP (4K/1080p), MPEG HD at 4:2:2 or 4:2:0, or AVCHD 2.0 at a variety of data rates.
Some Minor Negatives:
Cannot record an external mic simultaneously to both channels
No headphone volume control (Both of those can, however, be adjusted in the menus.)
There is no stand alone battery charger
There is no shot gun mic, but you can mount your own shotgun.
Positives:
10 bit, 4:2:2
Good in low light
UHD
XLR audio
Internal ND filters
Slow motion
Great zoom range
Low Price.
Specs
Sony 1 Inch, 13.2 mm x 8.8 mm back-illuminated Exmor RS CMOS sensor
Lens: 9.3 to 111.6mm (35mm Equivalent Focal Length — 29 to 348mm (16:9) — 62mm Filter
OLED Viewfinder: 0.39″-type / 1.0 cm (approx. 1.44 M dots)
LCD Monitor: 3.5″ / 8.8 cm (approx. 1.56 M dots)
UHD 3840 x 2160p: XAVC Long/MPEG-4 AVC/H.264 (8-bit at 100/60 Mb/s): 29.97 / 25 / 23.98fps
1920 x 1080p: XAVC Long/MPEG-4 AVC/H.264 (50/35/25Mb/s): 59.94 / 50 / 29.97 / 25 / 23.98fps
1920 x 1080p: MPEG HD 4:2:2 (10-bit at 50Mb/s) & 4:2:0 (8-bit at 35Mb/s): 29.97 / 25 / 23.98 fps
1920 x 1080p: AVCHD MPEG-4 AVC/H.264 AVCHD 2.0 (28/24/17Mb/s): 59.94/50/29.97/25/23.98
1440 x 1080i: MPEG HD 4:2:0: 59.94/50
HD up to 120 fps at 50Mbps (XAVC -60i: 120 fps, 50i: 100 fps)
720p up to 60fps
Sony G Lens with 12x Optical Zoom
24x Clear Image Zoom, 48x Digital Zoom
Discrete Manual Focus, Zoom, Iris Rings
XAVC, AVC/H.264, AVCHD 2.0, MPEG-4
Slow and Quick Motion Function
Card Slots: 1 x SD/SDHC/SDXC & Memory Stick Duo, 1 x SD/SDHC/SDXC
Wi-Fi Built-In
Clear, 1/4ND, 1/16ND, and 1/64ND
1 x BNC (3G-SDI), 1 x HDMI, 1 x RCA Composite Out, Remote: 1 x 2.5 mm stereo mini jack, Headphone: 1 x 3.5 mm stereo mini jack
2 x XLR (3-pin), line/mic/mic +48 V selectable
Weight: 4.2 lb / 1.9 g (body only), 5.1 lb / 2.30 kg (with Lens Hood, EVF Eyecup, and NP-F970 Battery)