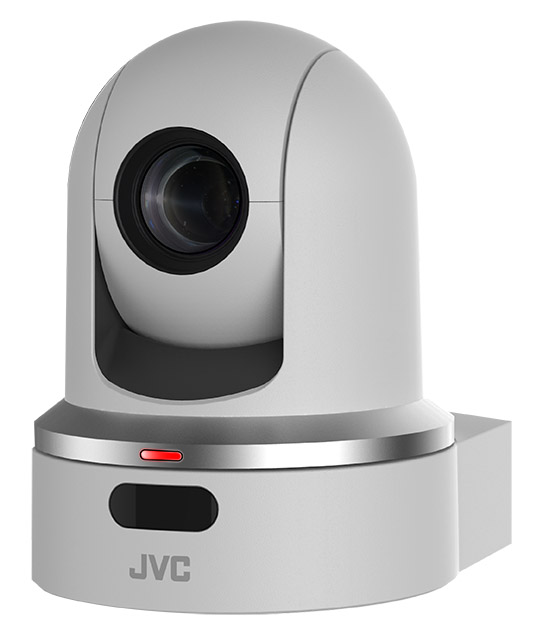 5.8 inches wide, 7.8 inches high
The KY-PZ100 from JVC is a PTZ camera that can be controlled from anywhere over the internet.
With traditional PTZ cameras, you can control the pan, tilt and zoom, but there is usually a serial or proprietary control cable between the controller and the camera. So the location must be wired for that. The KY-PZ100 is network controllable. Just plug-in a Wi-Fi adaptor, and you can control one camera or up to 100 other cameras anywhere in the world. So you can set a camera anywhere and then control it from your home simply by using a web browser or the dedicated RM-LP100 remote control panel, or any one of a variety of remote units using standard protocol such as Tricaster.
The camera will also stream over the internet at 1080i/60, 1080p, 720p, and 360p video with 2-channel audio.
This could be especially helpful for churches that wish to narrowcast their services to shut-ins or others. Or for any other local event such as a wedding. Check whether you local camera rental house plans on stocking this camera. The camera also accepts micro SDHC/SDXC cards for internal HD recording up to 50Mbps.
The KY-PZ100 will function as a stand-alone remote camera or it can be part of a multi-camera system. It features 3G-SDI and HDMI outputs.
A single Ethernet cable will power the camera, control it, and stream to the world. Or it can go wireless. Just provide power to the camera, plug in a WiFi adapter or LTE modem, and you'll have a robotic camera that can be placed anywhere and stream full HD video.
Tech Specs
1/2.8-inch CMOS sensor (2.2 million pixels)
Optical zoom lens with 30x zoom ratio (4.3-129mm, f/1.6~4.7)
12x digital zoom
Autofocus and image stabilization built-in.
f/1.6-4.7 maximum aperture
HD 1080p, 1080i, 720p video
Simultaneous 3G-SDI and HDMI and IP digital outputs
Night mode (0.003 lux, BW)
Direct drive motor for smooth, quiet and accurate pan and tilt
2 channels audio (or 1 channel balanced audio)
Can memorize 100 preset settings and positions
Can be mounted upside-down or right-side-up
MSRP: $3,550.00 Available now on Amazon.