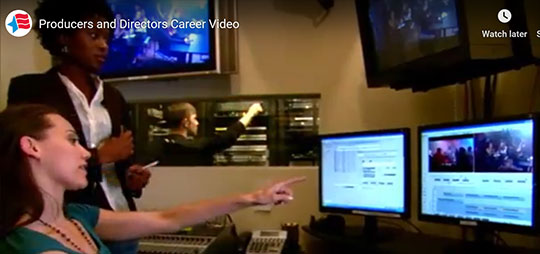 This excerpt from the Occupational Outlook Handbook is compiled by the US Dept. of Labor Bureau of Labor Statistics. The following is a summary. What the report calls "commercials, and other performing arts productions" also covers corporate video, industrials, and small business videos.
Quick Facts: Producers and Directors

2018 Median Pay
$71,680 per year ($34.46 per hour)
Typical Entry-Level Education
Bachelor's degree
Work Experience in a Related Occupation
Less than 5 years
On-the-job Training
None
Number of Jobs, 2016
134,700
Job Outlook, 2016-26
12% (Faster than average)
Employment Change, 2016-26
16,500
What Producers and Directors Do
Producers and directors create motion pictures, television shows, live theater, commercials, and other performing arts productions. They interpret a writer's script to entertain or inform an audience.
Work Environment
Producers and directors work under a lot of pressure, and many are under stress to finish their work on time. Work hours for producers and directors can be long and irregular.
How to Become a Producer or Director
Most producers and directors have a bachelor's degree and several years of experience in motion picture, TV, or theater production, working as an actor, a film and video editor, or a cinematographer, or in another, related occupation.
Pay
The median annual wage for producers and directors was $71,680 in May 2018.
Job Outlook
Employment of producers and directors is projected to grow 12 percent from 2016 to 2026, faster than the average for all occupations. Job growth in the motion picture and video industry is expected to stem from strong demand from the public for more movies and television shows, as well as an increased demand from foreign audiences for U.S.-produced films.
Bureau of Labor Statistics, U.S. Department of Labor, Occupational Outlook Handbook, Producers and Directors,on the Internet at https://www.bls.gov/ooh/entertainment-and-sports/producers-and-directors.htm (Last modified June 18, 2019.)