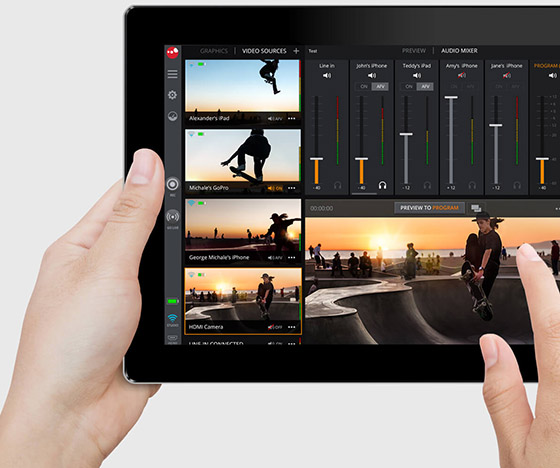 SlingStudio offers wireless multi camera production. It can connect to iPhones and Android phones. Add a $349 Camera Link accessory, and it will connect to any DSLR or video camera with an HDMI port. And it does this wirelessly over a private 802.11ac (2.4Ghz or 5Ghz) WiFi network. The video can be up to 1080p/60 FPS. This is managed by an iPad app. The app lets you preview and switch sources on the fly. There's also a battery accessory ($149) which provides three hours of charge, helpful for remote locations.
The cameras can be as far as 300-400 feet away. SlingStudio achieves wireless multi camera production by a built-in dual-band Wi-Fi transmitter to stream from the box over the internet, initially to Facebook Live and YouTube. You can also connect one camera physically to its HDMI port.
SlingStudio can monitor four cameras at the same time, but it can manage up to ten cameras. It offers streaming video to Facebook Live and YouTube. When not using it live, it can be edited by Adobe Premiere or Final Cut. Using a supported storage device, recordings from each synchronized camera as well as live-switched video edited on location are all stored in one place.
The same company brought you Sling TV, its subscription cord-cutter service.
The SlingStudio's hardware is nearly the same as the Dish Hopper, the home entertainment device. It produces 1080p livestreams at up to 8Mbps. The SlingStudio box is 7.8 by 5.6 by 3.5 inches and weighs 1.43 pounds. It's about the size of a hardcover book. It includes an SD card slot and USB-C port for video storage, as well as an HDMI input port for bringing in additional video sources, an HDMI output port for previews and an audio-line in connection.
While developing SlingStudio, the company paid special attention to ensuring that the different video streams stayed in sync, which is essential to a multi-camera platform. The SlingStudio's Console iPad app enables you to preview changes before they go live. It can also superimpose text, add effects and transitions.
SlingStudio offers wireless multi camera production including live switching and simultaneous recording for editing later.
Summary:
Connects up to 10 cameras simultaneously
Live-switch and broadcast videos from 4 cameras
Record all video sources in one place for post-production
Portable, and easy to use
SlingStudio is is available on Amazon.