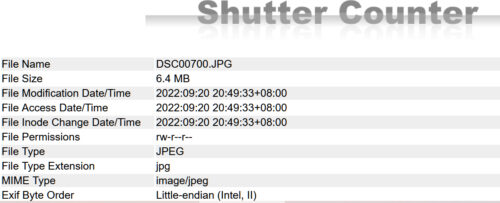 Take a jpg file or a raw image file from your camera before you've done any editing to one of these websites. The first is
tools.science.si
Drag the image, for instance a jpg, and you can see right away your shutter count. It shows that one of my cameras has made 39,489 exposures. This photo DSC00701.JPG had this information in its EXIF file. I was surprised to see that this camera Sony A5100 had such a shutter count. But this camera shoots slides in a proprietary unit called SnapSlide. So it has photographed thousands of slides, probably less than the shutter count because I have used the camera in other ways. But the vast majority of the 39,489 shots was, I am sure, slides.
Another site you can use is shuttercounter.com which yields the exact same shutter count. This site, however, also provides all the information in the EXIF file including what lens was used, the f-stop, the lens mount, location, time and date, and lots more. If you haven't seen this before it is worth a look. You may be surprised with how much information in included in every EXIF file.
To check other camera manufacturers shutter counts, try https://www.camerashuttercount.com/.
There are many programs that allow you to edit EXIF files. For example, Adobe Bridge not only lets you edit image metadata, but also lets you choose what information you want displayed or redacted when your photo is published. Some social media sites, like Facebook, remove the EXIF data from an image during the upload process. If you're uploading your photos to your Facebook page as part of your portfolio, any personal data — such as location, time, and date — will be removed from the image.
There are also freeware programs that allow you to edit EXIF files. Google "free tools to edit EXIF files."
Does shutter count even matter on mirrorless cameras? It is a common misconception that mirrorless cameras only have an electronic shutter. Mirrorless cameras include silent more and very fast frame rates, but mirrorless cameras also have the more traditional mechanical shutter.
When you use the electronic shutter, the shutter count does not change. When there's no mirror to flip up and down, the shutter count does not matter as much on mirrorless cameras. You'll essentially find a longer life span. That said, shutter count does still matter.
"A mechanical shutter count life span does matter with mirrorless cameras as well," said Mr. Masami Takase, Director, Imaging Product Development for Olympus. "A life span of the camera could also be affected by other devices apart from a shutter, for example, the parts that require mechanical movement, such as a release button."
You might also be interested in our article entitled Cleaning The Camera Sensor