What Users Say about the Sony HDR FX1 HDV Camcorder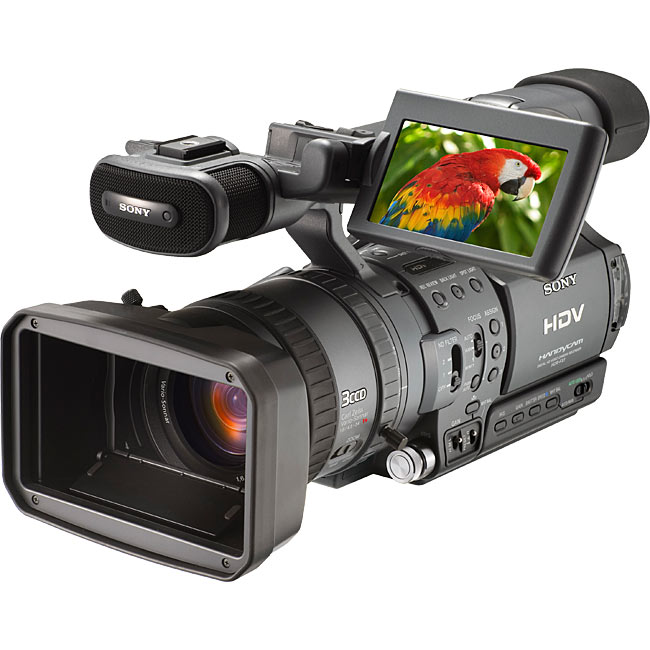 Sony FX1 is the leading Hi-Definition prosumer video camera currently available. Released in the fall of 2004, it was the first consumer HDV three chip camera with 1080 lines and 60 interlaced frames per second. It captures in native 16:9 and can down-covert video to existing editing systems.
On the negative side, no XLR inputs or independent audio-level controls. It has no 24P mode so cannot record progressive scan video at the 24 frames per second rate. No B/W optical view finder, although many really like the 3.5″ LCD.The manual focus is a bit difficult.
The camera has been called a breakthrough camera, the VX1000 of this decade. The Sony VX 1000, of course, was the revolutionary DV camera of the mid 90s. Great in low light with a 3 lux rating. For the $3700 list price, this is an amazing camcorder.
Main Features
Signal System NTSC and 1080i
Image Device 1/3-Inch 3-CCD 16:9 Aspect Ratio
Lens 4.5mm to 54mm 12x Optical Zoom f/1.6-2.8
72mm Filter Diameter
Minimum Illumination 3 Lux
Built-in Filters 1/4 ND (1.5 stops)
1/32 ND (5 stops)
LCD Monitor 3.5 inch
Viewfinder Color, 16:9 (252K pixel)
Shutter Speed Range 1/4 to 1/10,000 seconds
Tape Format HDV and DV
Weight: 4 lbs 4 oz
User comments:
A user comments
When I demo at trade shows and in my office I first show my older work that was shot on XL1/GL1 & VX2100 (I rarely if ever used on camera lighting even with these cameras, I had NRG varilights and would have them dialed way down on the xl& GL and a Sony 10W on the VX) and they respond very favorably to the work and video quality. After about 10 minutes. Then I immediately start playing my newer work shot with Z1/FX1 (never with a light) and they are blown away.
But 80-90% right now are booking SD because they (my clients) just don't have the budget to pay what I need to charge to do HD.
BTW I have 3 FX1s & 1 Z1U and I don't notice a difference in quality at all. I am a full manual shooter. Right now if I had no cams and had to buy a cam. I would buy a Z1 and if I got a 2nd I would get an FX1 with a Studio 1 xlr box. If I already had a PD170/150 and were a wedding videog marketing to the typical bride I would definitely wait on HD and maximize the use of them.
Another user writes:
Have you ever shot a wedding and reception with the Sony FX-1? I have, in a very dark church.
When you see the color and detail on the big screen, you don't miss a few lux of sensitivity.
The sample stills were not "night and day". Try the camera out. DV does not even compare to HDV.
Another User Writes:
For me not having the flip out LCD block the iris control (like on my PD170) when I am shooting from my chest or waist was worth the switch. I also love the new LCD and it's placement. It's size and clarity make focusing so much easier. I love the mechanical stops on the zoom ring. I love the ergonomics of the camera over the VXs and PDs. No more front heavy wrist fatigue. I believe that the colors it records appear to be more true life than the VX and PD. So far I am very happy. At this point my biggest complaints have more to do with software upgrades I have to buy to edit what this camera outputs. I am on a mac.
Another User Writes:
Biggest plus for me is being able to apply slow-motion to the HDV and have it still look super clean–no jaggies. I look at DV footage now like I look at VHS.