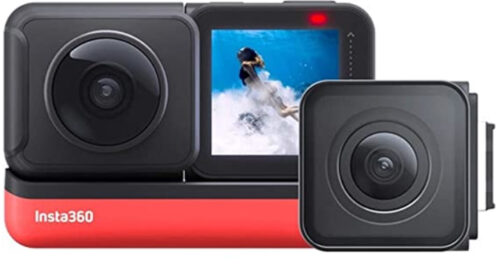 The Insta360 ONE RS has a modular design including the core, battery, and changeable lens is waterproof and shoots 4K 60fps. It can also record 6K 360 videos.
This action camera features Interchangeable Lenses, Stabilization, 48MP Photo, and AI Editing. It allows you to swap between the new 4K Boost lens which has a log setting. The other option is the 360 wide angle lens which allows you to choose the framing in post which is a game changer! The core contain a 1.3 inch display, SD card slot and USB-C port. The battery is good for about 70 minutes of recording. Larger batteries are available.
The One RS has two stabilization options. The Flow State shoots in MP4 which gives very good stabilization out of the camera, but the best stabilization option is Post Stabilization. While this must be done in post, the horizon lock is pretty amazing. It takes a terribly shaky video and makes it rock-solid. It can also shoot 200fps at 1080p, full HD.
Active HDR captures the full dynamic range of a scene. The camera has a wealth of other functions including time lapse, Star lapse, time shift, night mode and others. Using the 360 mode, there is also an included invisible selfie stick. One hell of a versatile camera!