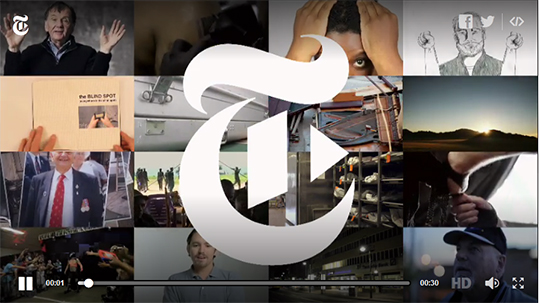 Get Ready To Produce Video For The NY Times
You can produce video for the NY Times. If you can point to a short doc or samples on the web and can pitch an idea, you could produce an OP-Doc for the NY Times. Op-Doc is short for opinionated documentaries. They are typically 5 -10 minutes long. These docs can cover current affairs, contemporary life and historical subjects.
The NY Times editorial department will consider written pitches which includes links to sample footage or completed videos. No film trailers or videos that have already been posted online or have appeared on television. They will consider shorts or videos that have been adapted from longer works-in-progress.
Op-docs started in 2011 and have included several series:
Scenes for very short works which could be brief interviews, clips of street life
Animated Life which illustrates scientific discoveries
Interactive or Multimedia projects
Verbatim making video from legal transcripts into dramatic performances
Use this pitch form to submit your ideas for short docs.
There is no mention of money and that should give you a tip, but just having your video on the NY Times is probably worth more than money. Imagine linking to your video on the NY Times. Read more about submitting OP-Docs.