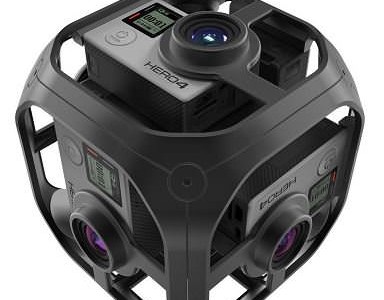 The GoPro Omni VR Camera Rig is the latest in a series of VR milestones that foretell big growth in this area.
These days, anyone can view 360-degree images and video in a browser, smartphone, tablet, or headset. Just look at YouTube's 360-degree Videos Channel and Facebook's 360 community. These sites are clearly important portals for immersive and streaming content. Virtual realities can be video or photo.
Last year the NY Times and Google formed a partnership to present a new virtual reality documentary film. One edition of the Sunday New York Times papers included the Google Cardboard Virtual Reality headsets at no extra cost.
The GoPro Omni VR Camera Rig is $5,000 with a 360-degree camera sphere. It ships tomorrow, August 17, 2016. This rig will capture high-resolution 360-degree videos using six Hero4 Black cameras, all synchronized to act as one camera. Or if you already have 6 Hero4 cameras, you can choose the rig alone for just $1,500.
The footage captured by the Omni VR can be uploaded to the GoPro VR app. This is a free player for desktop, web, or mobile devices. The app yields a similar viewing experience whether you're watching footage with a VR headset or on a 2D device.
Before the GoPro Omni VR, GoPro previously offered its Odyssey platform which includes 16 synchronized Hero4 Black cameras and costs $15,000. You had to apply for it late 2015.
The virtual realty market is just beginning. Other manufacturers offer products ranging from the pocket size pocket-sized LucidCam VR. This one only covers half of the 360 degree view, but the manufacturer claims that is sufficient for most VR. For $799, there is the Vuze. This is aimed at the consumer market. It is disk shaped and includes eight HD cameras.
At the other end of the spectrum, Facebook has an open source VR system called Surround 360 which costs $30,000 just for the materials to build the 17-camera array. Facebook is not going to manufacture it. But that's nothing. Last year Nokia presented the Ozo, a 360 camera intended for professional filmmakers. It began shipping last month. It sells for $60,000.
Amazon offers quite a few 360 degree cameras at more reasonable prices. Virtual realities are used in education and training, video games, motion pictures, and will see new uses in archaeology, architectural design, urban design, theme parks, retail, and more. Non-profits such as Amnesty International, UNICEF, and World Wide Fund for Nature (WWF) are starting to use virtual reality to make a bigger impact on their donors.