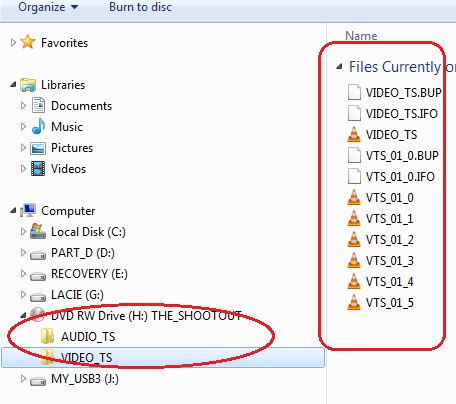 Have you noticed that this folder is always empty? The AUDIO_TS folder was specified by the DVD standards as way to hold a future audio format that would use DVD discs instead of CDs. That future format later became DVD Audio. While you can still find some music in DVD Audio, the format never caught on so there are very few players. The VLC media player is one program that has DVD-Audio support.
The TS in Audio_TS stands for " title set." It's part of DVD structure. According to the DVD standard, the VIDEO_TS folder holds all the data necessary for the DVD to be read. This includes the information files (IFO) and any backup (BUP) files. The original DVD standard didn't require an AUDIO_TS folder. Everything was to be included in the VIDEO_TS folder.
But due to poor design, the early DVD players required the AUDIO_TS folder and would not play a DVD without it. The Panasonic DMR-EX79E recorder is one example. It will not play discs without the Audio TS folder. But if you add the empty Audio TS folder to the disc, it plays just fine.
Today's DVD players haven't needed to see the AUDIO_TS folder for many years. DVD replicators and duplicators have continued to include the empty AUDIO_TS folder on DVDs so even the oldest DVD player would work. Most duplication software will add the AUDIO_TS folder if it is not present.
To be strictly compliant with the DVD standard, a DVD should still have the empty AUDIO_TS folder even though today's DVD players don't care if it is there or not. It costs nothing to add and it could make your DVD more accessible.