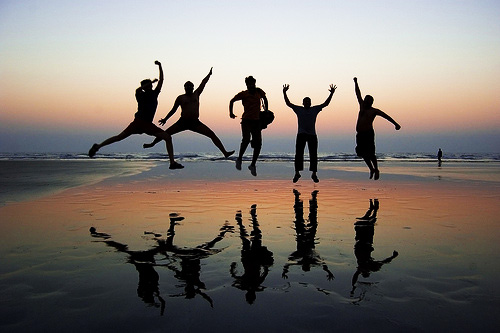 Did you know that just about half the people who live in Manhattan live alone? While many of them lead very social and active lives, some have little social contact. It is well established that loneliness is not good for your health. Of course you can build a social life by joining social groups and participating in activities that will bring you into contact with people. Or you can own a service business. And if that service business is something you enjoy doing, you'd kill two birds with one stone – you'd enjoy the work as well as meet and work with people who could benefit from your skills.
That's a great thing about the video business. When you work with someone on a common goal such as producing a video that helps their business, preserving their family films or photos, producing a great wedding video, and other services, you build a bond that can last. Even though you may be a one-man band, you still need to dialogue and build consensus with your client. This conversation is fun because it is creative.
Working with a crew is obviously a social experience. When I was traveling so much for the networks, the crew would become an ad hoc family, although many would not have admitted that until years later.
It's people like you who run these service businesses, often starting from scratch. And while money is a central part of any business, it's a lot more than just the money. Whether it's shooting, editing, coming up with great ideas for short films, or working with a group on a common creative project there are plenty of reasons we all are attracted to video production.
For many people, the workplace is a built-in social life, for the self-employed, you have to make more of an effort to build a social life.
You know I never stopped to tell you, but I really do appreciate my readers. I have enjoyed talking with you, writing for you and helping you begin or grow your businesses! Thank you for being part of the VideoUniversity family.
If you'd like to improve your social life, improve your business. I hope this will help you build a social life.
Here are a couple good ways to do that:
Produce Business Videos
Start or expand a successful home-based business producing business videos for corporations, small business and non-profits. Even if you've been producing for years, you will learn new ways to grow your business. Read more.
"Preserve Family Histories with Video and Film Transfers"
If you are not yet offering your customers video and film transfers, consider this: Those old VHS and other format videos are deteriorating and the playback machines are obsolete. Unlike some video services this one is very low cost to start. Transferring photos, slides and all kinds of film to DVD, USB drives and the Cloud is a bigger business than you may realize. You will be in demand because most people do not want to trust family memories to an anonymous box store. They want a local service. Read more.