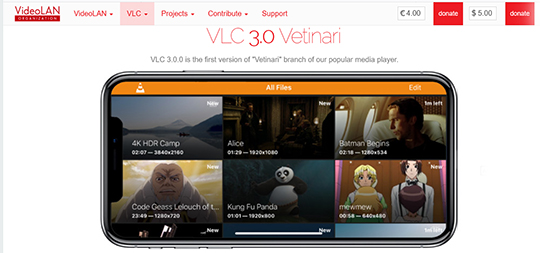 We've been recommending VLC for a while here. Whether it is for converting video files, recording a webcam, screen recording or other video tasks VLC is a much better media player than Windows Media Player and Apple Quick Time. VLC can play virtually any video format. It is available at the VLC site.
This great open source program is free and has just been updated to version 3.0 "Vetinari" which includes some major improvements. Here are four of the improvements:
1. HDR Video
This is where video is going. High Dynamic Range (HDR) is coming to TV sets and streaming devices. HDR gives video more contrast, colors and brightness. There are several competing HDR formats, but HDR10 which is supported by the new VLC is the latest. HDR10 is also supported by Panasonic, Philips, Amazon and 20th Century Fox. So if your TV or device supports HDR, you will have significantly better video.
2. Chromecast
VLC 3.0 lets you beam your content to other screens with Chromecast. Chromecast support is only available for Windows and Android devices. macOS isn't supported yet. Since Google's Chromecast API is not open source, VLC created new code which is open source, just to support playback for unsupported formats and devices.
3. 360-degree Video
360 degree cameras are plentiful, inexpensive and easy to use. The catch has been that you had to use proprietary software for each camera to view it. Or you could upload the 360 video to YouTube or Facebook, but they do some serious compression to 360 video that takes the fun out of it. VLC has changed that. It now supports 360-degree videos.
4. Better 4K and 8K Video Playback
VLC 3.0 supports hardware acceleration for 4K and 8K videos with 3D audio. So now the VLC 3.0 media player use the processing power of your device's graphics chip. And this helps render 4K and 8K videos smoothly without any stuttering or jitters.