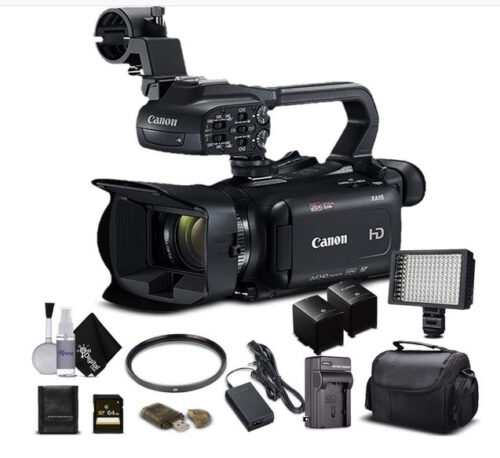 This $1300 camcorder is a good choice for documentary filmmaking and event coverage. It includes the Canon DIGIC DV 4 image processor, advanced HD CMOS pro image sensor, and a 20x HD optical (not digital) zoom lens with a focal length range of 26.8–576mm to produce full HD video at 1920 x 1080. The lens is the 35mm equivalent zoom range of 26.8mm to 576mm. The lens has a dedicated manual focus ring. f/1.8-2.8, filter 58mm. The LCD screen has Zebra bars which are selectable between 70 and 100% to judge exposure. There is a 2x magnification focus aid. Instant AF focusing system offers a big improvement in auto focus speed and accuracy. Ideal for shooting sports. The Canon XA-11 also has Infrared Night Vision to see in the dark.
The 8 blade iris provides smooth background images. A detachable lens hood prevents light glare. There is also an improved larger eye cup, when using the camcorder's EVF viewfinder. The viewfinder has 5x the resolution of most viewfinders with 1.56 million pixels. The color viewfinder (EVF) is a nice feature to see in strong sunlight when it is harder to see the LCD screen. These EVF viewfinders are disappearing from camcorders.
The dimensions are 5.2 inches x 7.1 inches x 9.1 inches. It weighs 1.6 pounds with battery.
The controls are easy-to-use thanks to the 3 inch OLED touch panel view screen and manual camera controls. HDMI and composite output. Professional audio is available from two XLR inputs so you can record on two separate channels. The XLR provides balanced audio unlike the mini plug jacks on some camcorders. It has a 3.5mm output jack for headphones. Add a shotgun mic and you are ready to shoot.
The camera has a 5-axis image stabilization system which keeps the video stable. Canon's Instant AF focusing system greatly enhances auto focus speed and accuracy and decreases the time to lock in focus even in low light.
The Canon XA-11 records to SDHC/SDXC Memory card. The included 64GB card records over 5 hours. It has dual slots, so you could record 10 hours if you use 64GB cards in both slots.
This Amazon seller offers a package deal with 64 GB Memory Card and wallet, Extra Battery and Charger, UV Filter, LED Light, Case, Lens cleaning kit and more. Available on Amazon