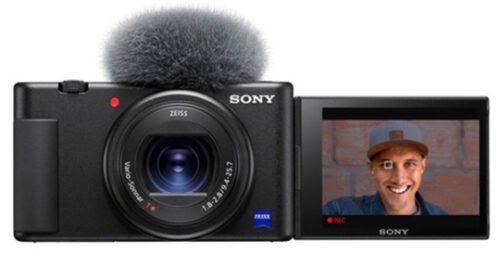 The Sony ZV1 is a 20.1 megapixel compact camera with fixed 24 to 70 mm f1.8 to f2.8 Zeiss lens with built in ND filter with a slide flip out screen, built in directional mic with windscreen, shoots up to 4K 30 fps, 1080p 120 fps, 100 megabits per second up to 960 fps, a great active stabilization. Basically the RX100 shooters have been asking for since 1984. The Sony ZV-1 is a lot cheaper than the Sony RX 100 series which was oriented toward photography rather than video. It has ports for mic in, micro USB, and micro HDMI. It has excellent eye auto-focus, face priority in multi metering which adjust the exposure on a face. It has one-button beauty effects if you want them. One button will make the background blur.
The auto focus is remarkable. Hold a product in front of your face and it focuses quickly. Bring it down and it focuses back to your face. It will focus as close as 5 centimeters. You can tap on the screen to track an object and you have automatic follow focus. Sony ZV-1 shoots slow motion or time lapse.
The camera can be completely automatic for the beginner or sophisticated and powerful for the experienced shooter.
The Sony ZV-1 has lots more
This is just the beginning. Sony is bringing out a PC software that will allow the ZV-1 to be used as a webcam. You can use Imaging Edge and Movie Edit apps on your smart phone or tablet to edit the videos you shoot. Movie Edit will actually read the accelerometer info and apply more stabilization to your footage even if you didn't have the stabilization turned on when shooting.
The audio is very good. The microphone wind screen does an excellent job. The camera does not overheat like the RX100. In fact it would run for 59 minutes with an old battery compared to only 34 minutes on the RX100 with a new battery.
The Sony ZV-1 has some wow features you will probably never use such as facial recognition which stores a cam setup profile for a particular face, shutter trips on a configurable level of smile.
Ideal for vlogging, there's a lot to love about this camera. Available on Amazon.