A video deposition is a legal document that must be created a certain way for it to stand up in court. This is a recording rather than a work of art. For instance, you can't zoom in for a close-up like you might in a documentary interview.
Jeffrey Menton owns Valuable Video, Inc, a video production company in Miami which specializes in legal video depositions. Jeff and his two freelancers have videotaped some 4000 depositions since 1984 and have worked with many of the most respected law firms. Some of his depositions have included the Family Guy TV show creator Seth MacFarlane, Apple vs Samsung which was done in South Korea, Bernard L. Madoff Investment Securities, LLC US Bankruptcy Court New York, and thousands more.
Jeff regularly travels to Europe, South America, Asia and the Caribbean for depositions. He's worked in some 35 countries in all. As he says "We also represent many prominent court reporting agencies in New York City, California, Washington and Philadelphia as well as other parts of the country for their local Florida assignments and worldwide assignments." Not all legal videographers have careers like Jeff, but the work can be just as interesting. His contacts around the country provide most of the assignments as well as clients in the South Florida area. Miami is the "gateway" to South America, the Caribbean and Central America.
One way to build a career like Jeff's doing international video depositions would be to contact law firms that specialize in international cases. Make sure you know the legal procedures inside and out and don't forget to keep your passport up to date.
Jeff says one of the things he likes the most is that he learns new things on every job. Legal videographers agree that variety is one of the highlights of the work. Jeff started in video shooting weddings, but found the long hours and physical demands were best left to younger people. Jeff fits all his gear on one Rock N Roller cart.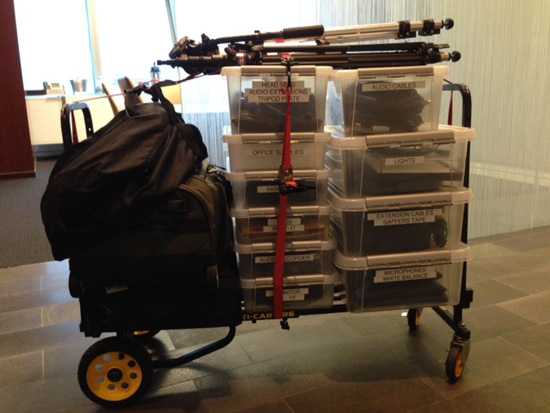 The Gear and Techniques
Jeff shoots with a Panasonic AG-HMC80 which records to SD cards. Like most legal videographers, he shoots and delivers in Standard Definition 4/3 because that's what his clients want. Surprisingly HD is not used for depositions in many court rooms. He typically delivers on DVD, MPEG-1 or streaming as the client wishes. He also does a lot of synchronizing the video with the written transcript. Menton's office is in his home.
He works very hard to deliver a quality product. Many legal videographer do not routinely light their deponents (A person who, under oath or affirmation, gives out-of-court testimony in a deposition), but Jeffrey does. He uses LED lights and for working in Florida, the fact they give off so little heat is a major benefit. This helps keep the air conditioners off which makes for a quieter deposition. The LED lights are 110/220 volt so no adapters are needed for his international jobs. He also uses a portable background and is surprised that many videographers today use it in a vertical position just so they don't have to carry an extra light stand.
In addition to video depositions, Jeffrey's company also does day-in-the-life videos, video editing for trials, and, corporate videos. With a partner he also does court room presentation graphics and provides attorneys with equipment for their trial presentations. While he could retire, he loves the work too much to do so. Good for you, Jeffrey!
---
To explore the possibility of becoming a Legal Videographer doing video depositions, see our home study course.