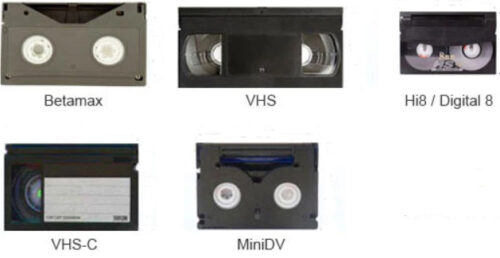 If you have a collection of old videotapes gathering dust in a closet or basement, transferring them to disk or a digital format may be a wise decision. Here are four good reasons why:
1. One of the best reasons to transfer your videotapes is to preserve precious family memories: Videotapes can degrade over time, causing the images and sounds they contain to become distorted or lost. By transferring your videotapes to a digital format, you preserve the precious memories captured in the videos, such as family gatherings, weddings, and other special events.
2. Reduce the clutter: By transferring videotape contents to a digital format, you can free up space, but more importantly this make it easy to view the videos.
3. Make videos playable again: Older playback equipment such as VCRs and camcorders do not last forever. These devices are often impossible to repair since parts are no longer available. Transferring your videotapes to a digital format allows you to easily watch and share your videos on modern devices, including TVs, phones, and computers.
4. Edit and enhance the videos: Once your videotapes are in a digital format, you can easily edit them using video editing software. Now the video can tell a story using music, narration, and titles. Simply cutting out some bad footage makes it a pleasure to view. And the best part is that editing the videos doesn't erase the original footage, so you preserve both the original and edited versions. Of course there is no obligation to edit and you can do it long after the transfer is made.
At Oak Tree Press in Bristol, we transfer and edit all formats of videotapes. All work is done in house. Nothing is sent out. For more information or to schedule a transfer, please call Hal at 401-253-2800 (sorry, no texting). Or email [email protected]