One of my favorite aspects of the transfer business I run is the people I meet. A very interesting woman came in to transfer some videos. As we talked she said they had just arrived in Rhode Island from a round-the-world sail. I asked if I could correspond with them by email as they sailed to distant lands. Here are some of those emails. Earliest email at the bottom. Most recent at the top. I have changed the names but not the places. I have also added editor notes to explain technical sailing terms.
——————-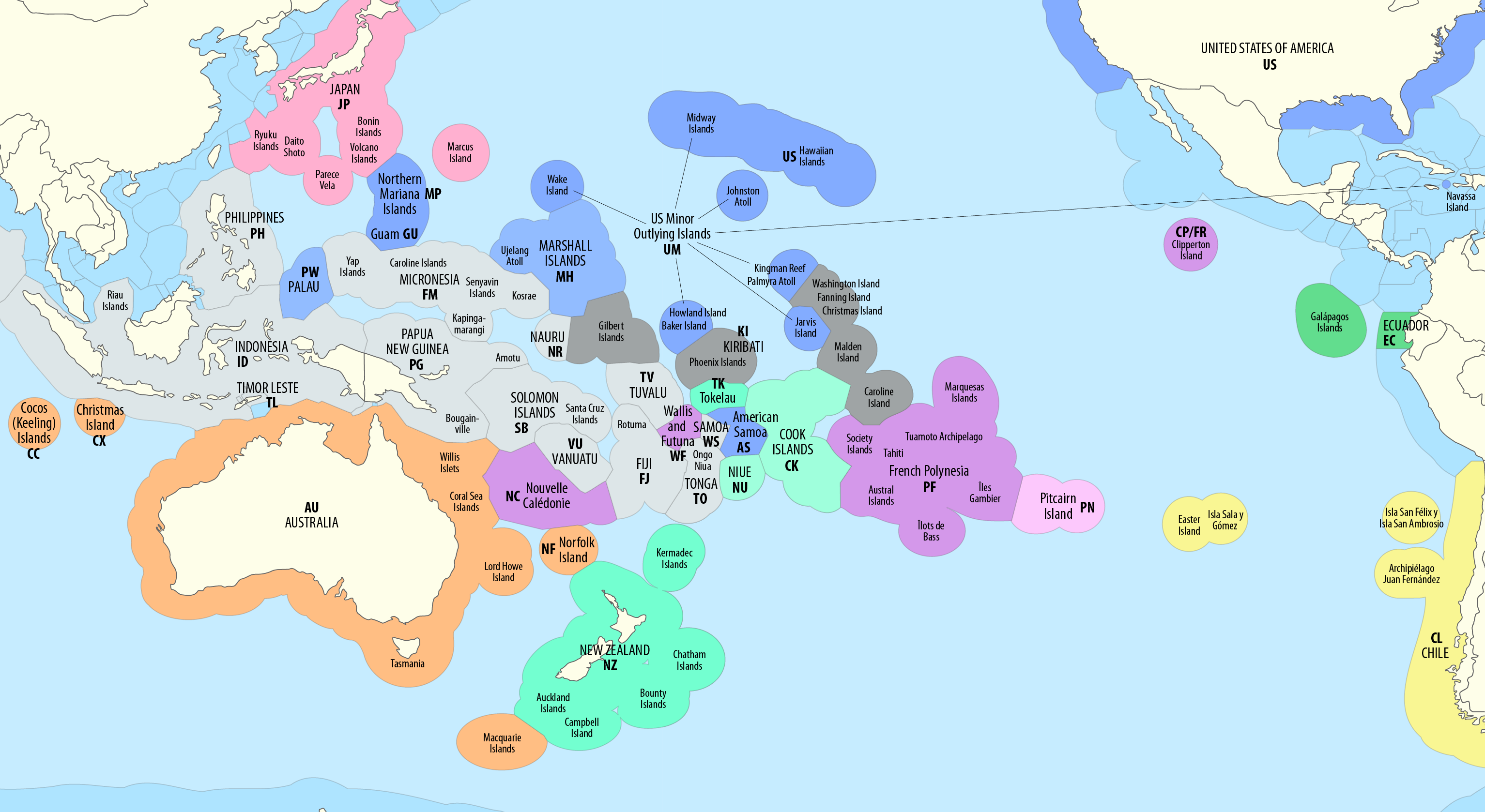 To enlarge, right click and open in new tab.
Hal,
Ron and I are now in the Kingdom of Tonga.  We left Bora Bora and headed to Suwarrow a tiny atoll in the Cook Islands.  It was one of the most remote places we have ever been to.  Living on the island for 6 months are two park rangers who clear in and out visiting yachts, other duties are to maintain the surrounding atoll- mostly picking up trash.  They live a very simple life with only the food provided when they first arrive.  We had a wonderful time there. Swimming the reef with manta rays at their cleaning station and looking at all sorts of coral and fish.  Having beach barbecue and just enjoying being on land and exploring very clear waters.
After 10 days we headed to Neiafu, Tonga. A bit of a exhausting run.  On the way to Suwarrow the autopilot arm broke so we had to hand-steer. While in Suwarrow Ron made a temporary part out of angle aluminum corner stock and flat stock with JB Weld in all the cracks-  it looked wonderful and worked for three days from Suwarrow to Tonga. Then it was back to hand steering for two days -during the time a passing trough (weather -ed.) which was not suppose to be too bad showed up.  The best part was that we had enough wind to move us right along- at times hitting 7-8 knots. The miles just melted away so much we had to slow down so that we would arrive in daylight. Waves breaking over the deck and at times swamping the cockpit. All under control but sometimes frustrating as it was colder than the waters in French Polynesia.  I was bundled in sweat pants, rain chaps, shirt and rain jacket & scarfs around the neck and hood up to keep the water out.  Very fashionable.
The arrival to Neiafu was magical with rainbows with sight of land- whales dancing- a nice welcome. Boat repairs just about done – sail repaired- wet laundry washed, still waiting on the welder for our auto pilot.  Whisker pole needs attention but will deal with it later.
 
The plan is to go to Fiji within the next ten days – clear in to Savusavu before heading to Vuda Point Marina for a haul out –  paint the bottom and wax the hull.  Australia being the goal but it is still another two passages of seven days each- after getting to FIJI – if we stop in Vanuatu it would make it 5 then 5 and 7 day runs.    So as we accept this new reality and that reality is Australia for the best market to have someone else enjoy this wonderful boat.  Both Ron and I feel we would like to spend time doing other things.
Carol
—————————–
Hal Landen wrote:
Hello Carol,
Haven't heard from you in a while so thought I'd check in. Hope you, Ron and Petrel are good and your latest adventure is going well. I'd love to hear the latest.
Best Wishes,
Hal Landen
—————————–
Subject:                     Re: Transfers
From:                         Carol
To:                            Hal Landen
Hello friends,
Hope that all is well, and spring has sprung. We are well.  After leaving Panama in route to Hiva Oa, Marquesas we had a couple of days of good sailing. As we made our way south we encountered the Inter Tropical Convergence Zone or ITCZ. (ed.: The Intertropical Convergence Zone, or ITCZ, is the region that circles the Earth, near the equator, where the trade winds of the Northern and Southern Hemispheres come together.) at about latitude 5 degrees north. All the wind came to a screeching halt, as did "Petrel". The seas turn flat, and the whole ocean became a pond. That left us no choice but to turn on the engine. We motored for about 4.5 days and decided that we better make a stop at the Galápagos to refuel.
The Galápagos are very strict on yachts arriving to the Islands due to the fragile Eco-system.  On 3 April we crossed the equator. We contacted an agent via email, using our satellite phone as a modem. He said we would be allowed to make an emergency stop for fuel, but, could only visit one island. When we were about twenty mile off the island, Carol donned her wet suit, flippers and mask, and dove to check the bottom for stray barnacles. She found only a couple and removed them. We arrived at San Cristobal on 3 April. Coming into the anchorage we saw "Airborne" a catamaran belonging to our friends Tom and Christine.
We anchored off their port beam (middle of the left side of a boat .ed) As we were anchoring one of the water taxi guys came along side and told us that our agent Bolivar, would visit us in an hour, which he did. He took our passports and boat papers and said that he would return the next morning with customs and  emigration to fill out forms and have the boat inspected. At which time they would tell us how long we could stay.  He said we were free to go to town. Where we met up with Tom and Christine for dinner.
The next day, what seemed like an army of people in uniform invaded the boat. We had six officials plus a diver, and our agent cramped into our cockpit.
—————–
Carol wrote:
     Good Afternoon Hal, Thank you for taking the extra time to transfer the VHS tapes to DVD.  I appreciate what you accomplished on these difficult media.  
     My one question is can I have my daughter combine the images on the DVD's and edit them?
     After lots of paper work, and a bottom inspection, and the arrival of two more people who were agriculture inspectors, we were given clearance to stay for 4 days. Oh yeah, let's not forget the $600 we paid between the government and our agents fee. Ouch! That being said, the Galápagos should be on everyone's bucket list. Simply amazing. We hope to return some day by plane and spend more time. 
Okay, so we left the islands on Saturday 7 April. We had to motor for a couple more days to get out our the ITCZ. At about latitude 4 degrees south the southeast trades (trade winds -ed.) began to fill in. We were off and running!
The rest of the trip was good although very long and tiring. We encountered some squalls, usually at night when you couldn't really see them coming. One was a little unnerving as we were flying a reefed main and reefed jib in about twenty knots of wind off the port aft quarter when " bam", out of nowhere we were hit with 35-40 knot wind and heavy rain on the nose. Carol was below on her three hours off, but came running up to assist. We tried in vain to keep from back winding. We got the engine start to help us push through the wind. Got the jib in. (the sail in the front of a boat. -ed.)
The wind although still strong had backed to the port quarter. So we just ran with it.  All in all the hardest part of the passage was fatigued. With a crew of only two we were on a watch schedule of 3 hours on 3 off.  We usually stuck to that from 6:00 pm until 6:00 am. During the day we would do boat chores, check the weather grib files we received via sat phone, made repairs, and cooked our meals. (GRIB is a file format for the storage and transport of gridded meteorological data, such as Numerical Weather Prediction model output.) We arrive in Hiva Oa (Island in French Polynesia – ed.) on April 29th. "Petrel" brought us over 4300 nautical miles (4900 statue miles) and 29 days at sea safely. And we are thankful.
 Well, my thumbs hurt so I'm done. 
Love to all,
Ron and Carol
S/V "Petrel" (SV = Sailing Vessel – ed.)
Passport 40 (a world cruiser sailboat design)
"We are all here, because we are not all there"
Hal,
Just to let you know my husband and I just sailed to the Galápagos from Panama a few days ago. Heading to the Marquesas on Saturday 
       Carol
     s/v "Petrel"
     Passport 40