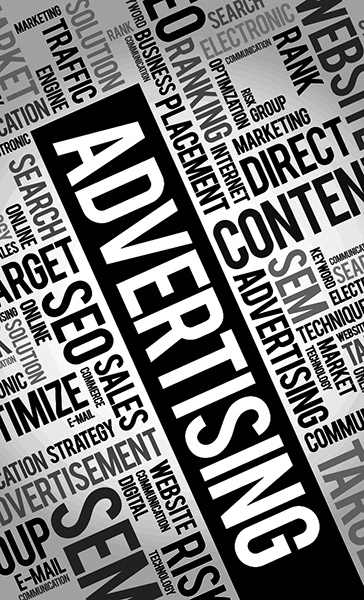 If you've been reading this newsletter for a while, you know I have experimented with many marketing and advertising tactics for my video transfer business. I have used yard signs, newspaper ads, direct mail, moving billboards, Local Search Engine Optimization, Google Business review and more. The yard signs were one of my early gambits. I no longer tack them to telephone poles, but I do have a small one in my own yard. It's been there for a few years. I re-install it as necessary from wind and snow storms. Many people have driven and walked past it countless times. If nothing else, it helps people find me when they are bringing me a new job. Many have said something like "I've been meaning to stop and ask you …"
Another early campaign was my experimenting with newspaper and magazine advertising. A small change I made to these ads was to add a dotted border around the ad and place a small pair of scissors next to it. Readers not only cut these ads out, they save them for years. I'm no longer surprised when someone shows me an ancient newspaper they of mine they clipped.
Another early campaign was investing in local Search Engine Optimization. Not only do I do well in local search, but I have asked many of my customers if they would give me a Google Business review. Some 5-star reviews will do wonders for any business even though there is a lot of cheating in the online review business. My reviews have the ring of truth in them because they are real. These reviews are important. According to Bright Local 90% of consumers read online reviews before visiting a business.
I also sought out local Facebook groups. I put together a graphic extolling the virtues of my transfer business. But the nice thing is that people who know me have recommended me on Facebook.
Then there was the conversion of my SUV to a moveable billboard. That one paid for itself the first week. And it continues to bring customers.
The most expensive was the brochure I used in a direct mail campaign a few years ago. I discovered a postal program that saves a fortune in postage. It's called Every Door Direct Mail. Instead of addressing each brochure to an individual or even an address, you simply specify which zip codes and carrier routes you want to mail. I chose the wealthiest town in the state which is not far from my town. See Christmas Transfer Crunch. This campaign ultimately brought in 4 times its cost. It brought customers for over 2 years. I'd be willing to bet I would get the same result if I repeated the exact same mailing, even though I have done that mailing before.
I always ask customers where they found me. One common answer is that they have seen several of my ads in different places. Expert marketers will tell you it takes several exposures to your message before a customer actually buys. In some areas they say it takes 5 to 9 exposures until you get a result.
There's a lot more I can do. Eventually I will get to these new experiments, but for now the business is in a good place. The bottom line is that all of these techniques work. You just have to do them and revise details as you go. Track results carefully.