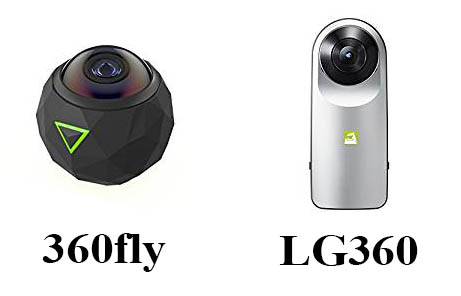 Unlike conventional rectangular or square video, the world we live in is 360 degrees, just look around. 360 degree cameras let you record everything going on around you at once. And if your clients haven't asked about it yet, they probably will. With a VR headset, such as the Samsung Gear VR or Google Cardboard, you can be totally immersed in the video. You can also present it to viewers without VR headsets via YouTube and Facebook like the sailing video we posted previously.
It's still one of the newest areas in digital video. 360 degree cameras present users with a bit of a learning curve. You need to learn where to place the camera. And how to convert the video you shoot into a format that's compatible with VR headsets and sites such as YouTube and Facebook.
But neither of these is that hard to learn. Experiment some with camera placement. You will soon understand what placements work the best. Most of the 360 degree cameras come with their own software, often as a mobile app. It can take a little while to transfer a 360 video to the phone, but it's not difficult.
One of the best rated 360 cameras is the 360fly 4K which combines a 16-megapixel image sensor with smart camera features such as First-Person POV, Triggered Recording Modes, Time-Lapse Mode and more. Check it out on Amazon.
It has 2880 x 2880 pixels video resolution and supports both Android and iPhone phones. Best of all it is easy to learn.
This model is dustproof, shockproof and water resistant to 3 feet. The 360fly 4K comes complete with 64 GB of internal memory and built-in telemetry sensors, including an e-compass, gyroscope and non-assisted GPS for performance tracking, adding ride or race data to videos, and connecting with other smart devices. The 360fly starts at $398.
If you want to get into the 360 game for less, try the LG's 360 camera for about $150. It's rated as one of the best low budget 360 cameras. It's not 4K or waterproof, but it takes decent 360 video of you and what's around you. It's easier to hand hold than most other 360 cameras, but the video resolution is only 2K and will not be as crisp as the 360fly. Uploading videos with the LG360 is done with an app either iPhone or Android. Read more about the LG360 on Amazon.
In addition to the two dual lens 360 cameras above, there are rigs with multiple cameras such as GoPro's Omni ($2500+) Go Pro Odyssey (no price listed), the Nokia OZO ($60,000), the open source, build-it-yourself Facebook Surround 360 and the Kodak Pixpro SP360 4K Dual Pack Pro ( $900). These cameras get a lot more expensive. So it's probably best to start with one of the two cameras above. You can always sell it on eBay when it's time to move up.