Apps for Filmmaking Android and iOS
Android Apps For Filmmakers
SL DigiSlate





A slate(clapboard) intended for use in professional film productions. Designed for anyone that needs a digital slate for their production. $9.99
Available from SL DigiSlate on Google Play
---
SL Director's Viewfinder
This app is designed for directors and DP's to block out and stage shots. $9.99 Available from
SL Director's Viewfinder on Google Play
---
DSLR Controller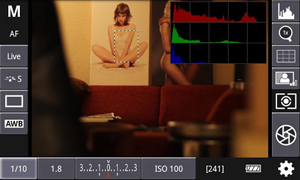 DSLR Controller is the first and only app that allows you to fully control your Canon EOS DSLR from your Android device with only a USB cable. No computer or laptop required. $7.73 DSLR Controller on Google Play



---
Photo Tools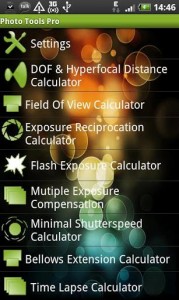 Includes: – DOF & Hyperfocal Distance Calculator, – Field Of View Calculator, – Time Lapse Calculator, – Timer, – Light Meter (using Camera & EXIF) and a ton more. Free
Photo Tools on Google Play
---
iOS Apps For Filmmakers
Shot Lister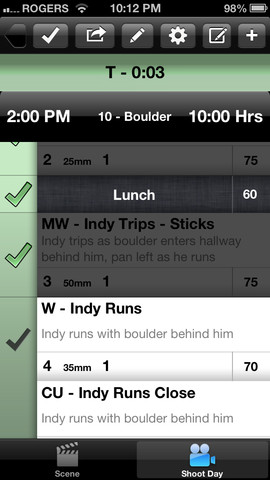 Shot Lister can work from pre-production to the minute by minute decisions on set. It's designed to deliver a solution that can build, organize, schedule and share shot lists digitally. $13.99
Shot Lister at iTunes Store



---
VisualDOF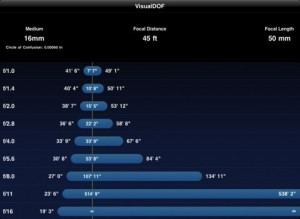 Calculate and compare the depth of field of various f-stops at a glance. $4.99
VisualDOF at iTunes Store
---
MovieSlate® (Clapperboard & Shot Log)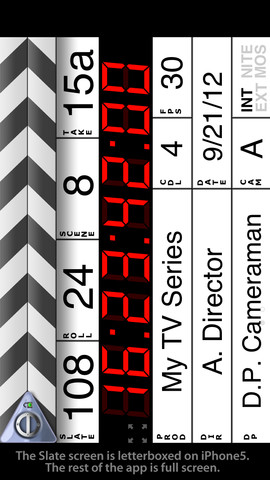 All-in-one digital slate, clapper board, shot log, and notepad $24.99
MovieSlate at iTunes Store
---
Director's Viewfinder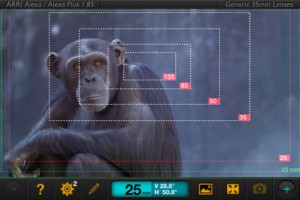 Works in much the same way as a traditional directors viewfinder but more accurately and with loads more features. Perfect for location scouting or making storyboards. Camera formats included.$29.99
Director's Viewfinder at iTunes



---
DSLRs and High Dynamic Range Imaging (HDRI)
This was filmed using two Canon 5D mark II DSLRs, each capturing the exact same subject via a beam splitter. The cameras are set so one records the subject overexposed, the other underexposed. After the footage has been recorded, a variety of HDR processing tools are used to to combine the video from the two cameras, yielding the clips you see above.
This can also be done with one camera such as Canon T2I with Magic Lantern.
High dynamic range imaging (HDRI) is a way to achieve a much higher contrast ratio (the range of values between light and dark areas) than normal photo techniques can typically achieve. The goal of HDRI is not to create an unnatural image, but one that accurately records the wide dynamic range of maximum black and the whitest white that occurs in one image.
For instance an image can have extreme contrast differences, but most photo and video technology cannot record these extreme differences. If you exposed for the darkest areas, you would over-expose the highlights and vice versa. Choosing what to expose properly and what to let go – ether under or overexpose is a judgement call of the photographer and is an important element of the art of photography. It applies equally to cinematography and videography.
If you took one photograph and exposed for the darkest areas and then from the same vantage point you took more photos and exposed for the lighter areas and selectively superimposed these photos into one image, you would get an image with remarkable dynamic range. So instead of allowing the windows to "blow out" or overexpose while keeping the room properly exposed, you can do both. This was the old way of doing this by combining the different shots in Photoshop or another program after the fact.
Taking different exposures with differing f-stops is called bracketing and is a time-tested technique in photography. Instead of taking three separate photos, each exposing for a different light value, today's DSLRs can do this automatically. By taking just one shot, the camera will automatically take several different shots at different exposures.
Is it cheating? Well, perhaps in the same way that auto focus and auto iris are also cheating, not to mention all the other auto functions in today's cameras. It's really just another tool at your disposal.
Video
While most video camcorders cannot process multiple images for each frame, the Red camera and Arriflex have both been working on digital sensors that can capture HDR video. The operator can choose 1 to 3 stops an additional contrast range. This gives them lots more options in post for beautiful images.
In the more affordable arena, DSLRs can capture multiple images per frame if the rate is much less than 30 frames per second. Time lapse video fits that bill because it has typical frame rates of 1 frame per second and less.
As TV sets are now featuring enhanced dynamic range, it won't be long before TV and other video applications will find it commonplace.
My New Editing Computer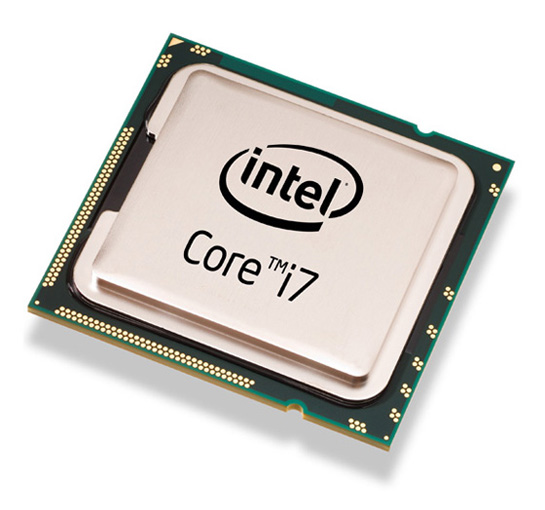 I just built a new video editing computer as outlined by
VideoGuys.
I was planning to build it myself after watching a couple of YouTube videos on the subject.
While speaking to a local IT guy, he made me an offer I couldn't refuse. It probably would have taken me a week and who knows if I would have made a mistake. For $100 he did it all except installing Windows and updating the drivers. I volunteered to do both of those easy jobs.
Here are the parts that VideoGuys recommended for their "Budget" machine at $1400. The "Hot Rod Machine" they outlined cost $2500.
Motherboard ASUS P6X58-E Pro
CPU Intel i7-950 Quad Core
GPU (graphics processing unit) Ge Force GTX 570
RAM Corsair XM3 16 GB (4 x 4GB)
Here we varied from the Videoguys recommendation which was for 05 G.SKILL Ripjaws 12GB (3 x 4GB) SDRAM DDR3 1600 (PC3 12800). My IT guy described this as not the most reliable so I went with the Corsair RAM and got 4 more GB of RAM for the same price.
Case Antec Nine Hundred Two V3 Black Steel ATX Mid Tower Gaming Case
Power Supply Corsair Enthusiast Series TX 850 V2 850 Watts
System Drive Western Digital Caviar Black 1 TB 7200 RPM SATA 3.5″ Internal Hard Drive. The original recommendation was for a Hitachi 1TB 7200RPM drive, but I heard it referred to as a "deathstar."
Operating System Windows 7 Professional 64 bit OEM
Optical Drive Pioneer Internal Blu-Ray Disk/DVD/CD writer BDR 206 Black $
CPU Intel Core i7-950 3.06 GHz 8 MB Cache Socket LGA 1366 Processor
The build above cost a hair over $1600. I found most of the elements at NewEgg.com, but a few of the items were cheaper through Amazon.com
I could have saved $100 by doing it all myself, but because I don't do this very often, I would have been much slower.
I choose to stick with the 1 TB hardrive for now. With the setup I have I can upgrade this and add an additional Solid State Disk (SSD), but I'd rather save the money now and get a great system working.
My old computer is a AMD Athlon 64 X2 Dual Core Processor 2.3 GHz with 6GB RAM and a 32 bit operating system running Windows Vista Home Premium. It could edit HD footage if you were willing to guess at exactly what you had until after it rendered.
The most important elements of a video editing machine are the processor and the video card or GPU, but all of these have to work together and this is where it's helpful to have someone like Gary Bettan from VideoGuys and a smart IT guy. I still need to add external hard drives and to upgrade to Sony Vegas 10 Pro. (Vegas 11 seems to have issues I don't want to deal with.)
One thing that struck me during the process is that a gaming computer might have worked just fine for HD editing. They both require a fast processor, lots of RAM and a powerful graphics card. I found some used gaming machines that might have done the trick, but for just a little more money I could have brand new.
The bottom line is that I couldn't be happier with my new editing machine. Everything works so much faster. All previews are at the best quality. Rendering is fast. Video effects are shown in real time. I've learned that the world of computer hardware changes so quickly that you must be flexible.
Ditch Final Cut Pro, But Keep QuickTime Pro
By: Anthony Burokas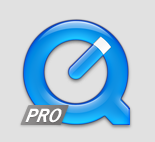 One of the "givens" that Final Cut Pro users take for granted is the incredible capability of QuickTime Player Pro. Not only can this "player" record video in SD and HD from external and internal cameras, but it makes many repetitive video tasks extremely quick. Ditching Final Cut Studio in a clean sweep can remove the "Pro" features from QuickTime Player. Here's how to get them back.
When I decided to make the move away from Final Cut Studio (and Final Cut Pro) I also took that time to completely upgrade my existing laptop with a Solid State Disk (SSD) and perform a clean install of the OS (from an optical disk no less!) and a clean install of Adobe Creative Suite 5. (CS5). Everything became quite snappy on this "new" laptop and I quickly became busy learning the ropes in Premiere. I upgraded an existing machine, but this also applies if you are making the jump to a new machine.
But, of course, I still have clients who need existing projects worked on, updated, tweaked, etc. For one client, I was in the midst of putting their finished video on YouTube for rental. I needed to grab 30 seconds of this video from the finished, stand-alone, rendered movie and make a new clip which I would upload separately and then link it as the preview file for the rental.
I went to my default tool, QuickTime Player and was flumoxed by the fact that I couldn't set an in and out point to copy a portion of the clip. And then I realized what the problem was: the "Pro" part of QuickTime Player requires a separate $20 purchase from Apple to be activated. Using FCP for over 10 years meant that I never needed to buy QuickTime Pro separately. But now, leaving FCP behind, those QuickTime Pro features were no longer available to me. I needed to find another way to make excerpts quickly.
In Premiere, I imported the source clip. Opened it in the viewer. Set my in and out points and couldn't figure out how to export the clip from the viewer. So I dragged the whole thing into the timeline and then cut it down. Time to export. I really just wanted to copy what I had into a new file. No transcoding or anything. Then, I faced Premiere's daunting Export module and was immediately flumoxed by the fact that I didn't see "use current settings" anywhere. It wanted me to either pick one of the presets or create a new setting from scratch. This was getting much more complicated than I wanted to deal with.
I wanted my QuickTime Player Pro back.
I asked fellow professionals for help, and of course I was told that Premiere can do anything, that Vegas could handle this. Edius has no problem… but most of them missed the point. I wanted something fast and simple. On a Mac, especially one now with a speedy SSD in it, QuickTime Player opens and plays a clip in under a second. Creating an excerpt takes just 7 keystrokes:
Double click the file, click spacebar to play,
Type "i", type "o", Copy, New, Paste, Save, type a name, Enter
Wait a moment, then Quit.
QuickTime Player defaults to saving the file as a "self-contained movie." Doing this copies only the data between the In and Out points of your source movie into a new file. In the Finder, it literally does just COPY the footage from one file to the other. No transcoding. No export settings. It's nearly as simple as selecting "Duplicate" in the Finder, except QuickTime Player Pro enables me to pick what portion of the source file to duplicate. This is why QuickTime Player Pro had become essential to an expedient workflow on my computer.
But how do I get QuickTime Pro back?
The answer lies in the registration file for Final Cut Studio that QuickTime Player checks to activate the Pro features of the app. This registration is nestled on the hard drive in a logical place, and just needs to be copied from the old hard drive to the same place on the new one.
Starting from the root level of the drive > Library > Application Support > ProApps Look for the "Final Cut Studio System ID." That's what you need to copy. On your new hard drive, go to the same place, and create the ProApps folder if you need to. Drag "Final Cut Studio System ID" from the old ProApps folder to the new one. Done.
The next time you launch QuickTime Player, you'll have full access to every feature it has.
Don't be confused by the Final Cut Express files I have in my new ProApps folder. I have a client who requires that we swap project files back and forth so I am still using Final Cut Express for them. But installing Final Cut Express actually does NOT enable QuickTime Pro. So, I still needed to install QuickTime Pro separately.
If you aren't cleaning out your System and Library folders, or using an application to remove all vestiges of Final Cut Studio (which spreads itself out into many different locations) then you probably will end up keeping the ProApps folder and QuickTime Player will continue to see your registration. But should you ever need to upgrade your hard drive, or move to a new Mac, and you're not going to reinstall the old Final Cut Studio… you'll want that one little file to keep the QuickTime Pro you've become accustomed to using.
.
Anthony Burokas is a 20+ year broadcast TV video producer currently based in Dallas TX. He has produced an extensive body of event, corporate, special interest, and broadcast TV. His web site is

IEBA.com
Follow @IEBAcom on Twitter
Oak Tree Press | 875 State Road Unit 11 #143 | Westport, MA 02790 | Voice: (401) 253 2800 | Fax: (401) 396-9132

© 1997 - 2013 Oak Tree Press. All rights reserved.